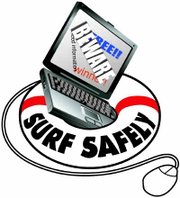 State officials recently released a new brochure on Internet safety and gathered to discuss increasing concerns that youths are becoming more vulnerable to sexual predators on the Internet.
Included in that group were Washington State Patrol Chief John Batiste, Department of Information Systems Director Gary Robinson, Superintendent of Public Instruction Terry Bergeson and State Senator Rosemary McAuliffe.
"With the rising popularity of e-mail and Internet chat rooms, it's become easier than ever before to talk to strangers -- and the results can be frightening," said McAuliffe, D-Bothell. "I wanted to produce something that gives teens and parents good ideas about how to stay safe online."
According to a Youth Internet Safety Survey, 77 percent of teens in the 14 to 17-year-old age range will receieve some form of sexual solicitation online.
Teenagers were also most likely to be solicited and exploited online, the survey found.
They are also at a high risk for computer viruses and identity theft.
"Many teens play online games, visit chat rooms or create their own Web pages, and sometimes they share personal information about themselves and their families," Robinson said. "Posting personal information makes even our children vulnerable to identity theft, the fastest growing crime in the nation."
The new brochure, called "Cyber Safety: Tips for Safe Surfing," contains a variety of parental tips and resources.
Tips for parents include:
• Create a written Internet safety plan. Set rules for Internet and e-mail use. Include specific strategies for what your teen will do when they are sexually solicited online or if they are frightened by an online encounter.
• Remind your teen not to disclose personal information.
• Draft a list together of what not to share.
• Talk frequently to your teen. Discuss their online friends just as you would talk about their other friends.
• Keep the computer in a common area of the house. This makes it easier to monitor computer use.
• Ask your teen to tell you right away about any uncomfortable experience.
• Consider filtering or monitoring software.
• Be aware. Your teen might be using computers at school, public libraries and friends' homes.
• Know the signs of "grooming." When someone initiates online contact with a young person for a sexual relationship, it's called "grooming."
• If you suspect online "grooming" of your teen, report it to your local law enforcement agency.
The brochure also includes tips for teens who surf the Internet.
Tips for teens include:
• Think about what you type. Never send your personal information into cyberspace.
• E-mails can be forwarded with the click of a mouse. Remember that any personal information could be sent to other people very quickly.
• Never make plans to meet an online "friend" in person without first checking with your parent/guardian. If the parent/guardian is OK with the idea, bring him or her along and make the meeting in a public place.
• Remember no matter how friendly someone seems online, they may be completely different in real life.
• Your online behavior is your responsibility. Don't harass or bully, and don't respond when someone else tries to pick an online fight.
• If you encounter someone or something online that makes you uncomfortable, tell a trusted adult right away.
• "Grooming" is when an adult goes online to meet young people with the intention of establishing an inappropriate relationship.
• If something you see online seems too good to be true, it probably is. If you receive any offers that involve going to a meeting, having someone visit your house or credit card information, tell your parent or guardian.
McAuliffe said she hopes parents and teens will use the tips together to help improve safety while surfing the Internet.
"I hope every teen in Washington sees this pamphlet and shares it with his or her family," McAuliffe said.
Bergeson said that while the Internet can be a tremendous resource, it can also present dangers to kids, and he hopes these tips will help keep kids safe in cyberspace.
He said as the Internet evolves, parents and kids need to learn to protect themselves from predators online.
For more information, or to get a copy of the brochure, visit the Office of Superintendent of Public Instruction Washington State School Safety Center at www.k12.wa.us/SafetyCenter/.