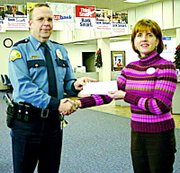 Dorris Kresse, manager of US Bank in Sunnyside, was recently named a US Bank Five Star Volunteer award winner, an honor that puts $1,000 into the treasury of the organization to which she volunteers.
"If you're chosen as a Five Star Volunteer, you receive the honor of winning for being a volunteer and, in this case, Sunnyside's Promise receives $1,000," said Cookie Rayburn, assistant manager at the Sunnyside branch of US Bank, which gave $240,000 in 2005 to non-profit organizations.
Kresse was the only local winner.
She was nominated for the honor by Police Chief Ed Radder, chairman of Sunnyside's Promise.
In nominating Kresse, a Promise board member, Radder cited her for "volunteering in the community on a daily basis" and having the kind of nature that fulfills the five promises of the program for which she volunteers hours of her time.
"She is always looking for ways to allow kids an opportunity to serve," Radder further noted.
"The Five Star Volunteer Award Program gives US Bank the chance to honor the company's most exceptional volunteers," according to Teresa Bonner, senior vice president of US Bancorp Foundation, in a press release made available this past week. "The bank," she continued, "is dedicated to recognizing our employees' commitment to their local communities."