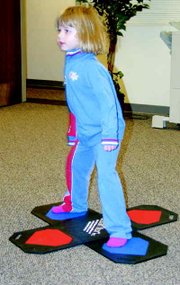 Throughout the rest of the school year the Sunnyside Recreation and Community Center is giving kids the chance to participate in a program that teaches them healthy eating habits and helps improve hand-eye coordination.
The School's Out Fun and Fitness program is sponsored by the community center, Sunnyside Community Hospital and the Sunnyside School District. The program received a grant from General Mills for $10,000, which also helps to fund the program, coordinator Jennifer Jones said.
Jones said the program hasn't been attracting as many kids as she would have hoped, but results are promising.
'They seem to be learning stuff as far as we can tell," she said.
The kids get to participate in a variety of activities that are aimed at helping them improve coordination skills while they have fun.
Those activities include jumping rope, playing basketball, stacking cups and playing the video game "Dance Dance Revolution."
Despite what you might think, the video game isn't the favorite activity of many of the kids who have participated in the program.
Jacob Chumley, 7-year-old second grader, said his favorite activity is playing basketball.
His female counterpart, Monica Venegas, also 7, said her favorite activity is cup stacking.
Why?
"I get to do it fast," she said.
Not only do the kids get to be physically active and work on their hand-eye coordination, but they get to learn how to eat healthy also.
Jones said the kids will get to prepare a snack that is healthy and tastes good, too.
Those snacks could include anything from smoothies to fruit and yogurt, to meat and cheese, she said. One day kids were even going to make little pizzas.
"Some days are geared toward breakfast," she said.
In addition to the snack, Jones said the hospital provides lunches for the kids.
Those lunches include things like fruit and sandwiches, which come in boxes, she said. And those lunches are included at no additional charge to the participating kids.
Jones said the program will continue through the rest of the school district's winter break, which includes Friday, and Monday and Tuesday next week.
The program will also be available to parents on Jan. 13; Feb. 17; March 17, 30 and 31; April 3-7 and May 5.
The program runs from 8 a.m. to noon on those days and registration for the program is required by noon on the day before.
Jones said the program is limited to 40 kids per day, but so far the program hasn't been full on any of its days.
The fullest the program has been, Jones said, was in November during parent-teacher conferences.
There is a $2 registration fee for kids who live within the city limits and a $2.50 fee for kids who live outside the city.
For more information call the community center at 837-8660 or stop by at 1521 S. First St.