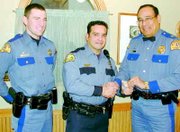 It had all the makings of a minor traffic stop for state trooper Robert Morris when he pulled over a vehicle in Sunnyside at about 1 a.m. this past July 17.
"The license plate light was out," Morris said of the stop.
For Sunnyside police officer Oliver "Ollie" Hernandez it was being at the right place at the right time.
"I was driving in the area and heard the activity on the radio and I was available to back-up," Hernandez said.
The result was teamwork that led to the capture of a Grant County murder suspect and commendation coins for both officers yesterday (Wednesday) from State Patrol Chief John Batiste.
Morris first suspected the seemingly routine July 17 stop would get interesting when he smelled alcohol on the driver's breath and the driver did not have a license.
While Morris spoke with the driver, Hernandez arrived on the scene-still thinking it was a routine stop-and spoke with the passenger . Hernandez responded when he noticed the passenger was trying to hide something under his legs.
Turned out it was a gun, with silencer, partially covered by a duffel bag.
"You just rely on your training and experience," Hernandez, a 12-year veteran of the Sunnyside police, said of his reaction when he saw a gun with the passenger.
"I'm absolutely thankful Officer Hernandez showed up," said Morris. "If he wouldn't have been there the gun would still have been found, but under a different circumstance. It would have been three (there was a second passenger in the car) on one at that point."
Hernandez took the passenger into custody on a firearms charge. Morris followed up with further investigation to learn the gun belonged to the driver.
The teamwork continued when Morris notified Alcohol, Tobacco and Firearms officials, who charged the driver on a federal weapons violation.
Less than two months later, Sept. 8, the Grant County Sheriff's office called saying the driver was a person of interest in a murder investigation. The driver was then extradited to Grant County, where he is in jail awaiting trial on the murder charge.
"Due to the outstanding investigation and follow-up work by these two officers a murder suspect was apprehended and facing justice for his actions," State Patrol Captain Robert Veliz said in presenting the coins and certificates to Morris and Hernandez.
"It's nice to get recognized, but I don't see it that way," Hernandez said after the brief ceremony. "I just see it as backing up Trooper Morris."
"It's a good feeling to know you've got that kind of person off the streets and in jail," Morris said of the driver in the July 17 incident. "You never know, we may have prevented a murder in Sunnyside that night."
Sunnyside Police Chief Ed Radder said it is the first time a Sunnyside officer has received the state patrol commendation during his 28 years in the department.
"It's a reflection of the quality officers we have in Sunnyside, and in particular Ollie," noted Radder. "It also shows the types of things they come up against on a regular basis."
As for Morris, the three-year state patrol veteran will never look at a malfunctioning light the same way again.
"Some guys give you a bad time for making those kinds of stops," he said with a smile. "But this just goes to show that you never know for sure what or who you'll find when you make a traffic stop!"