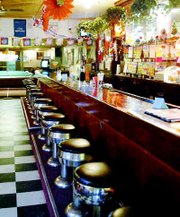 Black Thursday. The day the smoking lamp went out in the State of Washington.
It's been 21 days since that Thursday when Initiative 901 went into effect. Initiative 901 made all of Washington's restaurants, taverns and public places smoke-free.
Besides drawing the ire of many smokers, the ban has caused worry and concern among the owners of area drinking establishments.
"It's pretty much killed our business," said Doug Pecheos, who along with his brother own the Blue Moon Bar & Grill.
Pecheos figures the Blue Moon is losing anywhere from $150 to $200 a day in sales.
The smokers who still come into his place stay for shorter of periods of time now, Pecheos said.
"They used to spend $20 when they came in, now they spend $10 and leave," he said. "Even our regular non-smoking customers are staying away. They come in and their friends are not in the bar so they leave."
Pecheos says his customers now prefer to take a six-pack over to their friends' house to watch the game. There, he said, they'll be able to smoke.
"According to the governor, we're supposed to have an influx of new, non-smoking customers," Pecheos said. "I don't see them. I've gained no new customers."
Linda Chester, who owns the Silver Dollar Inn in Mabton with her husband, agrees.
"I haven't gotten any, any new customers," she raged. "I'm frustrated."
When Chester was asked how the ban has affected her business she replied, "what business? I don't know what business is any more."
Chester estimates her losses to be around $2,000 on a weekend. "We had to lay off two of our people," she said regretfully. "And right before Christmas."
Chester said the ban will kill her business on New Year's Eve, one of their busiest days of the year.
"I think in time we'll see a trickle-down effect," Pecheos said. "I think we're already seeing it. Our distributors are very nervous. Their sales are way off."
Richard Donoso, a salesman for King Beverage, says he has seen a marked slow down since the smoking ban took effect.
"Most bar owners I've talked to are worried," he said. "They don't know what they're going to do."
Rob Rice, owner of RC's Casino and Valley Lanes in Sunnyside, says he knows the ban has had an effect on his business, but he won't know how much until sometime in January.
He does say that on Dec. 8, the first day of the ban, it was RC's slowest day ever.
"At the bowling alley we've lost a couple of our league bowlers and we haven't picked up any new ones," Rice said.
RC's Casino has designated a small smoking area for their customers outside, 25 feet away from any public entrance. "We've put a small heater out there and eventually we'll provide some cover out there so they don't get rained on," Rice said.
At the Silver Dollar, Chester says her customers go outside to smoke but most end up throwing their cigarette butts on the ground.
"It's disgusting," she said. "It's an eyesore."
Chester said some of her customers have offered to pay her fine if she will let them smoke but she has had to say no. That has caused some situations.
"I've gotten into some arguments with customers over it," she said. "It can put me in danger if I have to tell someone to put out their cigarette. I've been called some names."
Chester says she has been sent some guidelines on how to deal with people about the new ban but not much else. There seems to be some confusion also on how the ban will be enforced.
According to Ryan Ibach, an environmental health specialist for the Yakima Health District, the health department will only issue warnings and citations to the business owner. The police department will handle the customers.
Ibach said the health department only investigates if they receive a complaint that a business is not complying with the ban. They then will go to that business and if they witness an infraction, they'll give the business a warning.
If the business gets a second offense, they are given a notice to comply within one week. If there are any more infractions during the seven-day period, the business is fined $100 for each offense.
If after that the business still doesn't comply, the case will be turned over to the prosecutor's office.
Ibach says his office has given out about eight warnings so far.
For now, bar owners like the Pecheos brothers are waiting and holding their breath.
"If the ban would have been fazed in over a few years, businesses could have had time to adjust and the customers could get used to it," he said. "I think the person who advised the governor on this is the same person who advised Bush about Iraq. No intelligence," said Pecheos.