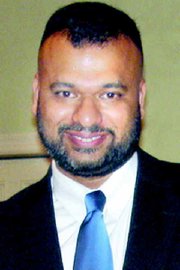 Citing alleged inappropriate sexual contact with a patient, the Washington State Department of Health has suspended Sunnyside physician Muhammad Ayub's medical license indefinitely.
Ayub began practicing just this past September at Lincoln Avenue Family Medicine, which is owned by Sunnyside Community Hospital.
The immediate disciplinary action, announced Dec. 29 but in effect since Dec. 28 according to the Department of Health, means Ayub cannot practice medicine pending the outcome of a hearing.
According to the statement of charges, Ayub inappropriately touched and made inappropriate comments to a female patient during an appointment in October.
The charges also state that Ayub asked the patient to come to his house later that day, noting that his family "was at Yellowstone and would not be home until late that night."
The patient declined the invitation, according to the statement of charges, then found that Ayub had left four to five phone messages on her answering machine that day asking her to call him.
The charges also state Ayub, who could not be reached for comment, asked the patient to attend a sexual therapy session. At that session, Ayub allegedly had sexual contact with the patient.
Ayub has 20 days to respond to the charges and must respond in 10 days to request a prompt hearing.
"The day the hospital was informed of the allegations against the physician he (Ayub) was suspended from all patient care," Media Relations Director Tom Lathen said in a prepared statement.
"The hospital and clinic cooperated fully in all investigations of the physician," the statement continued. "Subsequent to his suspension from clinic employment, the physician voluntarily resigned.
Lathen said that Ayub saw a few patients at the hospital during his brief work here. "He practiced at the hospital, but was not here long enough to see too many patients."
The job at the Lincoln Avenue Clinic was Ayub's first after completing his residency at Scott and White Memorial Hospital in Temple, Texas.
At that time Ayub received a special citation for completing a year as chief resident of the Texas hospital's family practice department.
"He was board certified and had excellent references," Lathen said of information available prior to Ayub's hiring by the hospital.
Ayub also passed pre-hiring screenings provided by the state patrol and the American Medical Association.
Muhammad Ayub