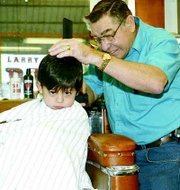 In an age where hair salons are often frequented by men these days, Larry Coder at Larry's Barber Shop in downtown Sunnyside is still preserving a piece of the past.
Coder has been cutting hair at his shop since 1989.
Coder was born in Sunnyside, but was raised in Granger his whole life. "My folks still live there," he said.
After attending all of Granger's schools, Coder graduated in 1965. In school, Coder played a little baseball although he says, "I was nothing famous."
After high school he went on to attend a barber school in Yakima. Asked if he graduated first in his class, he laughs and replies, "I just graduated like the rest of them."
Coder received his license in 1966 but that's when the hippie movement threw a wrench in his hair cutting plans.
"That's about the time the hippies were coming around," Coder explained. "People weren't getting their hair cut too much."
Since he was still young and he wanted to spend his time outdoors, Coder went to work as a welder.
Coder got his start at a place called Flodines. There, he learned the trade of welding for about three years. After Flodines Coder worked at a few different shops until he settled on B & B Equipment. He worked there until he got the itch to cut hair again, and opened up his own barber shop in 1989.
He's been cutting hair so long now, the kids that used to come in his shop with their parents to get a haircut are now bringing in their kids to Larry's shop for a haircut.
"I like cutting hair but I also like the people," Coder says. "A lot of people are more than customers, they're friends. It's nice to have that relationship with people."
One such person is Walter Braten. Braten has been going to Larry's Barber Shop for years, he says. Besides the haircuts, he enjoys talking about all matters of things with Coder. "You develop a rapport with your barber," Braten said.
After receiving a haircut last week, Braten jokingly complained to Coder that he had been putting gray in Braten's hair again.
Coder says the only thing he doesn't like about cutting hair is he can't do it all of the time. Due to health reasons, Coder has cut back his schedule to part-time.
Having cut hair for more than 15 years, Coder was bound to have a funny story or two. He did.
His favorite story is the time three men came into his shop for a haircut. Only one of the three men spoke English. One of the men who didn't speak English sat in the chair and Coder asked him how he wanted it cut.
The man looked to his English speaking friend to explain to Coder and the man told him his friend wanted his hair cut very short.
"I gave the guy a few swipes with the clippers and his eyes got real huge and he jumped up and turned around to look in the mirror," Coder remembered with a smile.
Apparently the man in the chair didn't want his hair cut short at all and the man who spoke English was having a little bit of fun by telling Coder to cut his friend's hair short.
The two guys not getting their hair cut immediately started laughing and the guy with the new hairstyle was a pretty good sport about it too. He ended up getting a good laugh out of it, Coder recalled.
Coder has always tried to treat people right and he likes to say, "everyone is welcome in here."
Coder said there are lots of places to get haircuts and if you want them to come to you, you have to treat people right.
"It's been a real good business to be in," he recalls. "I enjoy it and it's made me happy."
.