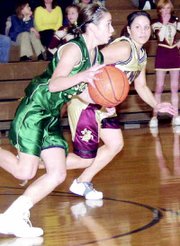 Senior Tyssyna Van Wingerden topped the 1,000-point mark in her prep basketball career last night, leading the Sunnyside Christian Lady Knights to a 65-58 non-league victory over the DeSales Irish.
Monday evening's win snapped a three-game losing streak for Sunnyside Christian (6-3, 10-7). The victory also avenged a 52-48 loss to DeSales that occurred a week and a half ago on the Irish's home court in Walla Walla.
"We're tired of losing," said SCHS Coach Al Smeenk. "Last night we played hard. We played well. It was a good challenge for us."
Heading into Monday's game, the senior Van Wingerden was sitting on 998 points in her four-year career. A member of the varsity since her freshman year, Van Wingerden has averaged no less than 12 points per game each season.
Smeenk called a set play for Van Wingerden to start last night's game. She didn't disappoint, hitting the bucket to give her exactly 1,000 points as a Lady Knight. She went on to score a total of 25 points last night. Van Wingerden also pulled down a game high 14 rebounds, which sparked Sunnyside Christian to a 37 to 24 advantage on the boards.
"She was in a zone," Smeenk said of Van Wingerden's play Monday.
The Lady Knights charged out of the gate quickly, building a 23-14 first quarter lead on the Irish. Van Wingerden had nine of her game high 25 points in the opening stanza.
Sunnyside Christian, which also got an 11-point scoring effort from junior point guard Emma Hernandez and a pair of 8-point performances from senior Jordi Roberts and sophomore Tori Van Wingerden, took a 50-45 lead into the fourth quarter. DeSales closed to within 52-50 with 6:16 remaining, but it was as close as the Irish would get. The Van Wingerden sisters connected on back-to-back 3-pointers to extend the Lady Knights' lead to 58-50. From there, Sunnyside Christian coasted to the victory.
DeSales was able to stay close to the Lady Knights because of the play of Andrea Wujek. Described as extremely athletic by Smeenk, the 5'10" Wujek canned a team high 19 points.
"She's a big girl who runs the floor extremely well," said Smeenk.
About the only weak Sunnyside Christian statistic that surfaced in last night's game numbers was the 26 turnovers Sunnyside Christian committed.
"They pressured us towards the end," said Smeenk. "I'd like to see that cut in about half. We need to slow down and concentrate."
Sunnyside Christian returns to league play this coming Friday and Saturday. The Lady Knights will be on the road both nights, at Glenwood and Mabton.
. Bob Story can be contacted at
(509) 837-4500, or e-mail him
at bstory@eaglenewspapers.com
DeSales 14 14 17 13 -58
Sunnyside Christian 23 14 13 15 -65
FG-unavailable. 3-pt.-DeSales 5, Sunnyside Christian 5 (To. Van Wingerden 2, Ty. Van Wingerden 2, Hernandez 1). FT-DeSales 5/8, Sunnyside Christian 8/10. Rbd.-DeSales 24, Sunnyside Christian 37 (Ty. Van Wingerden 14, Mensonides 6). TO-DeSales 15, Sunnyside Christian 26.
DeSales-Cox 9, Rusch 2, Hamada 3, Tuggle 7, Duncan 7, Robison 7, Wujek 19, Roach 2, Cole 2.
Sunnyside Christian-Ja. Roberts 0, Jo. Roberts 8, To. Van Wingerden 8, Ty. Van Wingerden 25, DeGroot 4, Rice 3, Hernandez 11, den Hoed 2, Mensonides 4.