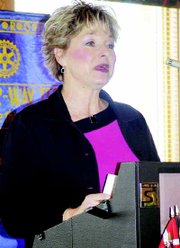 The story of a little boy who had never seen mountains up close or had walked along a mountain stream served to illustrate Judy Jacobson's plea for support of a program close to her heart.
"If he had not been able to take the Best SELF (Summer Education and Learning and Fun) field trip he might not have had the opportunity to venture outside of his community to the mountains," she told the Sunnyside Noon Rotary Club members this past Monday.
"After seeing the mountains up close, walking along the streams and touching the mountain trees all he could say was, 'this is the best day of my life'," Jacobson said.
"It was amazing for us to see his reaction to all of his new experiences And that is the best part of the Best SELF program," she said.
As the director the Yakima County Best SELF program, Jacobson was in Sunnyside seeking to raise funds and awareness for the unique summer learning program, which provides academic, as well as social skills for hundreds of Yakima County children.
It costs $16.82 a day to provide the program for one child, Jacobson said. For that amount of money, a child receives classroom instruction, mentoring and tutorial services, as well as the opportunity to go on educational field trips, as well as meals and snacks.
What do community partners received in return for their investment? "Children's reading skills increase as much as 43 percent and their math skills increase by 15 percent after just nine lessons in the program, which lasts from the end of June through the end of July," Jacobson said.
"The program motivates and prepares children for the next school year," she said.
Additionally, the program provides a safe, nurturing place while increasing the children's social skills and protective factors by 89 percent, she added.
But without the community support of Best SELF, the program may not be able to continue to help the 1,000 children it currently now serves each summer, she said.
Now in its seventh year, the program is facing budget cuts, forcing Jacobson to go into the communities which benefit from the program to seek financial aid.
Currently, the Best SELF program serves children in six communities, including Sunnyside, Mabton and Grandview.
"If each of you gave $10 we would have the money to help pay for the mentor to work with 11 children for this year's program," she said.
Persons who are interested in donating to the program may contact Jacobson at her Yakima office (509) 574-1522.