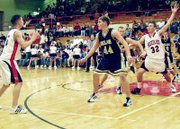 Sunnyside fended off a late barrage of 3-pointers to upset the No. 3 team in the Mid-Valley League last night, 51-48.
The victory over the Selah Vikings, who brought a sparkling 11-4 overall record into Sunnyside Tuesday evening, snapped a three-game losing skid for the Grizzlies. The win also guaranteed that Sunnyside (3-7, 7-11) will be playing in the postseason.
After fighting back with a 16-11 showing in the second quarter to take a two-point lead into the half, Sunnyside grabbed control of the game by limiting the Vikings to just three points in the third period.
Taking a suggestion from one of his assistants, Sunnyside Coach Steve Urrutia had his Grizzlies switch over to a 2-2-1 fullcourt zone defense after intermission.
"We don't use it very often," Urrutia said. "I think we surprised them with it. It changed the tempo of what Selah was trying to do."
The Vikings made one last push at Sunnyside in the late stages of the game. With Dane Peterson and Trevor Brink combining for three treys down the stretch, Selah cut the Grizzlies' 10-point lead to just a single point. The Grizzlies held on, though, to eke out the upset victory.
Sunnyside's bread and butter guy last night was 6'3" senior Reid Schilperoort. He fired in a game high 16 points. Schilperoort also snared a game high 12 rebounds.
"It definitely was one of Reid's better games of the year," Urrutia said. "And, he had to go 29-plus minutes last night because Jake (Thomas) got into foul trouble early on."
The 6'6" Thomas sat for much of the first half, but made a major contribution when he was out on the floor. Urrutia said Thomas not only pumped in 10 points and grabbed eight rebounds, he figured in prominently in the 2-2-1 fullcourt zone defense that shut Selah down in the third quarter.
Junior Derrick Simmons also posted some nifty numbers for the Grizzlies last night. He only was credited with 2 points, but dished four assists and came away with four steals. More importantly, said Urrutia, Simmons protected the ball extremely well, which led to Sunnyside only committing 12 turnovers.
Senior Cody Heckert, too, played a key role for Sunnyside. He jump-started the Grizzlies in the second quarter, rallying Sunnyside from a 13-10 first quarter deficit to a 26-24 lead at the end of the first half. Heckert popped in 7 of his 12 points in the second frame. He also had both of the 3-pointers the Grizzlies scored on the night.
Urrutia also praised the play of bench players Efren Duran, Ryan Engel and Luke Schilperoort.
"We had to give our starters a rest, and those three went in there the second quarter and changed the tempo of the game in a positive way," he said.
Sunnyside has two regular season games remaining-this Friday at home against Prosser and the following Friday at Wapato. The Grizzlies currently have the No. 6 seed into the District playoffs wrapped up, but a pair of victories over Prosser and Wapato could move Sunnyside into the No. 5 slot in the District tourney.
"We're starting to play better basketball," said Urrutia. "We hope to finish on a promising note going into District."
Selah 13 11 3 21 -48
Sunnyside 10 16 11 14 -51
FG-Selah 18/46, Sunnyside 21/44. 3-pt. FG-Selah 7/20 (Brink 3, Peterson 3), Sunnyside 2/9 (Heckert 2). FT-Selah 5/10, Sunnyside 7/16. Rbd.-Selah 28, Sunnyside 28 (R. Schilperoort 12, Thomas 8). TO-Selah 14, Sunnyside 12.
Selah-Brink 12, Washoot 2, Zueterhorst 4, Eaton 0, Peterson 15, Brown 0, Sanchez 7, Smeeback 6, Powell 0, Ainsworth 2.
Sunnyside-Cantu 4, Simmons 2, Heckert 12, L. Schilperoort 4, Crimp 2, R. Schilperoort 16, Thomas 10, Montelongo 0, Duran 0, Engel 1.