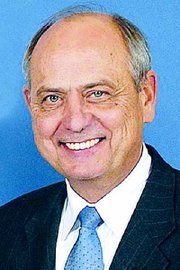 WASHINGTON, D.C. - Con-gressman Doc Hastings is the new chairman of the U.S. House ethics panel, formally known as the Committee on Standards of Official Conduct.
House Republicans ratified Hastings (R-Pasco) as the new chair in a vote taken yesterday. He replaces Rep. Joel Hefley of Colorado.
The job Hastings inherited is not considered a plum assignment. The ethics panel has come under scrutiny of late, following the committee's decision late last year to reprimand forceful House Republican leader Tom DeLay. The Texas legislator was rebuked for his role in political donations being made in return for a legislative favor, as well as for inappropriately intervening in a U.S. Border Patrol dispute.
Hastings also was a member of the ethics panel when it built the case to expel Ohio Rep. James A. Traficant, who was convicted on 10 federal charges of bribery, racketeering and tax evasion.
"The American people have every right to insist on the highest ethical standards here in the people's House," said Hastings.
"There is no more difficult assignment than to sit in judgment of one's colleagues.
"I didn't seek this appointment, but I'm honored by it and will do my best to carry out my duties fairly, with utmost respect for this institution and without regard to friendship, favor or political party," Hastings added.
Hastings has represented Central Washington's 4th Congressional District for six terms. As the third ranking member of the prestigious House Rules Committee, he has helped control the flow of legislation to the House floor and has helped determine which amendments will be put to a vote by the full House.
He and his wife, Claire, live in Pasco, where prior to entering politics he operated Columbia Basin Paper & Supply.