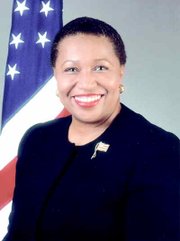 ELLENSBURG - The first African-American woman elected to the U.S. Senate, Carol Moseley Braun will discuss her political career - including her 2004 Democratic presidential bid - during an address at Central Washington University Thursday, Feb. 24, in McConnell Auditorium.
Braun's free, public 7 p.m. presentation, titled "Giving Life to Declaration of Intent: A Call to Citizenship," is part of CWU's celebration of Black History Month and Women's History Month in March and is being held in conjunction with the university's co-sponsorship of the 2005 UNESCO (United Nations Educational, Scientific and Cultural Organization) Conference on Unity and Diversity in Religion and Culture.
"It's a great opportunity for the university to have an African-American woman of her stature come and share her knowledge, experience and ways of knowing and doing with our university and surrounding community," Keith Champagne, associate vice president for student affairs, said.
Born in Chicago on Aug. 16, 1947, Braun received a Bachelor's degree from the University of Illinois in 1969, and a law degree in 1972 from the University of Chicago. During her subsequent employment as an Assistant United States Attorney, Braun was primarily assigned to civil and appellate case. Her work in housing, health policy and environment law won her the Attorney General's Special Achievement award, her first public service recognition. She would go on to receive more than 300 awards and eight honorary degrees for a variety of achievements in the public interest.
In 1978, Braun was elected as a representative to the Illinois General Assembly, where she quickly rose to the rank of assistant majority leader. In 1992, she successfully challenged the incumbent Democratic U.S. Senator in the primary and then won the general election. In the process she became the first Illinois woman elected to the Senate.
Following her 1998 re-election loss, President Clinton named Braun special consultant to the Department of Education on school construction and nominated her to become Ambassador to New Zealand and Samoa. In 2001, after returning from her ambassador post, Braun taught law and political science at Morris Brown College and DePaul University, and was part of a business law practice and business consultancy in Chicago.
Braun was the first woman in 16 years to make what political pundits considered to be a serious bid for presidency in 2004, setting a new record by making it onto the primary ballot in 20 states, more than any other woman who has sought to become president. During the campaign, Braun noted that she was running because it was time to remove the "Men Only" sign at the White House.
CWU senior sociology major Caitlin White said, "Her accomplishments inspire me to become a stronger woman and to fight for what I believe in."
Bola Majekobaje, CWU Black Student Union advisor, calls Braun "...an amazing woman who has already achieved so much in her lifetime."
Braun's CWU presentation is sponsored by the CWU diversity education center, President's diversity council, empowerment center, center for excellence in leadership and equity and service council. For more information, or for persons of disability to arrange for reasonable accommodations, call (509) 963-1687, or (for the hearing impaired) TDD (509) 963-2143.