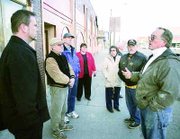 GRANDVIEW - Nearly a dozen business owners gathered in downtown Grandview Wednesday morning, huddled together outside listening with interest as Randy Lechelt of R.L. Lechelt Inc. of the Tri-Cities talked about ways to give the area's storefronts a facelift.
Grandview Chamber President Jim Herriman said Lechelt worked on downtown Kennewick's refurbishment, where sprucing up storefronts played a major role in the area's revitalization efforts.
"He successfully went through a downtown revitalization," Herriman said of Lechelt.
Herriman said one of the major reasons he wanted to bring Lechelt to the Grandview community was to shake up some ideas when it comes to their own revitalization efforts. He said many of the business owners who attended yesterday's informal meeting seemed to come away with a new excitement about the revitalization efforts the chamber is working to spur.
He said the meeting was one of the first steps in bringing all of the downtown business owners together to create a cohesive plan for the city's main thoroughfare.
Herriman said Lechelt talked to business owners about facade improvements. He noted that there is nothing that can be done to change the exact appearance of a building, instead he said the idea is to enhance what is already there. Herriman said Lechelt wants to bring the buildings back to their original state.
Herriman said one of the processes Lechelt uses when it comes to facade improvements involves foam, which is molded to fit the building and is then covered in a stucco-like material.
"It's very durable, easy to maintain and looks wonderful," Herriman said.
He said this process would allow business owners to be as artistic as they would like with their buildings.
"It will improve the looks of the buildings by 200 percent," Herriman said.
Following the general presentation by Lechelt, Herriman said several business owners showed him their particular buildings and asked for suggestions.
Herriman said the first business that will undergo the facade improvements is a business that has yet to open. He said the owner of Bliss, a hair, nail and tanning business opening on East Second Street, will receive the first makeover.
Herriman said the facade improvements are just part of Grandview's downtown revitalization efforts. He said students from the University of Washington should be visiting the community this spring to help spur revitalization efforts. He said the students will help identify grants business owners and other local entities could qualify for to help pay for the effort.