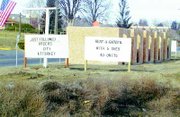 The construction of five mini-storage barns on a South First Street property has led the Sunnyside building department to issue a building permit citation to Tom Paul, the property's outspoken owner.
Paul, who has been at loggerheads with the Sunnyside city government since last September, said he is well within his rights to construct the small storage units without a city building permit.
Not so, claim city building officials. Last Friday, the building department issued a stop work order, saying city codes call for Paul to provide its department with a site plan, including plans for landscaping details and public access before Paul's project can continue.
Yesterday afternoon (Thursday), city officials met with Paul's' attorney to see if some sort of resolution can be worked out to end the conflict which has taken a nasty turn during the past month.
While Sunnyside City Attorney Mark Kunkler remains hopeful a resolution can be reached, Paul said he believes the matter will end up in court.
"They said I can keep the sheds if I take down the signs," Paul said, adding that is not a likely solution.
Paul has also installed a fence along his South First Street property, which borders a street the city plans to widen in the near future.
He also began constructing the 10x12 storage units for his latest project. Paul said he intends to rent out garden plots on the property along with storage sheds for people wanting small garden plots.
But the mini barn project hit a snag this week when city officials told him he needed a building permit, in addition to a site plan.
"As I read the code, I think I'm well within my rights to build the sheds," Paul said.
Paul said he put up the fence to protect his property.
"People have stole my property from the site and vandalized my signs," Paul said.
The signs, which started going up last fall, have criticized city officials for their denial of a conditional use permit Paul sought last year.
At the center of the conflict was a request by Paul to replace a commercial billboard which has stood on his property for a number of years.
The giant billboard, which has been located on the Paul property for the past 14 years, was taken down last summer. Paul sought the Sunnyside Board of Adjustment's approval for a conditional use permit to replace the sign.
However, after the board gave its initial approval, the permit was denied by city staff, said Paul. "How can the staff repeal the board's decision," Paul asked then and has continued to ask for the past several months.
Paul said he won't back down and will continue to install his signs questioning the authority of the city staff.
"I guess we will be going head to head," he said late Thursday afternoon.
He has said the signs, which call for the firing of the city attorney, as well as references to the Sunnyside's odor problems emanating from city hall, are simply him exercising his right to free speech.
"What do we have here, a dictator in city hall," he said.
"I think it is time for the city to get difference legal advice," he added.
"I think what the city is doing is unconstitutional," Paul said.
Despite Paul's objections, Kunkler believes a resolution can be worked out regarding the disagreement in the near future.
"We are working through a number of issues and we're hopeful a good resolution can be reached," Kunkler reiterated.
For the time being, Paul said he has no intention of taking down his signs.. "And I plan to keep the sheds up," he added.