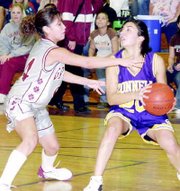 The Grandview girls are sitting pretty at third place in the CWAC standings. Following this past weekend's play the Lady Greyhounds are now two games ahead of the fourth place team.
The Lady 'Hounds managed to pull out a Saturday night win over Toppenish, 53-34. But the victory came just one night after losing a hard fought game to Connell. Grandview fell to the Eagles, 65-44.
Friday night the Lady 'Hounds (5-3, 9-7) roared onto the court, scoring 11 points in the first quarter and going basket-for-basket against Connell in the second quarter, when both teams put 12 points on the scoreboard.
Grandview let the game get away from them in the third quarter.
"We got outscored," said Grandview Coach Adolfo Hinojosa. "That was pivotal in the second half."
The Lady 'Hounds managed only 11 points in the third quarter, compared to the 23 sunk by Connell.
Hinojosa said one thing he attributes to Grandview's loss was his team's lack of accuracy from the free-throw line. The Lady 'Hounds were 11-for-22 from the line, while Connell was 10-for-12.
"We didn't send them to the line too many times," Hinojosa said. "But we didn't capitalize on our free throws."
Hinojosa said senior Jessica Rodriguez had a good night for the Lady 'Hounds Friday, scoring 21 points.
"Jessica has proven to be a lead scorer out there," Hinojosa said. "She has the will to win."
He said her sister, sophomore Danica Rodriguez, also had a good night for Grandview.
"She hit some key shots and some key free throws," Hinojosa said of the younger Rodriguez sister.
Overall, Hinojosa said he felt his team was undermanned against Connell. He said the Eagles have more players and were able to do more substituting. Hinojosa said things like that can make a difference when you're playing a physical team like Connell.
Another physical team the Lady 'Hounds took on over the weekend were the Toppenish Wildcats. Saturday night, Grandview hosted Toppenish in a game that sent Jessica Rodriguez to the hospital before the first half was over.
Hinojosa said the senior took an elbow to the eye four minutes into the first quarter and had to be taken to the hospital for stitches.
But the rest of the team stepped up and the Lady 'Hounds were able to prevail over the Wildcats.
Hinojosa said he was happy to see his team come off of the loss to Connell with a renewed sense of determination.
The coach said his team came into Saturday night's game moving the ball really well and hitting their shots.
However, he noted that after the loss of Jessica Rodriguez he did have to make some changes. He said instead of playing a zone defense, the Lady 'Hounds played a half-court defense against Toppenish.
"We did really well, we made our rotations and we really shut them down," Hinojosa said.
He said Danika Martinez really stepped up Saturday, scoring 13 points for the Lady 'Hounds.
"She stepped up a level for us," Hinojosa said of Martinez.
He said sophomore Ashley Leidig also played well against Toppenish. Hinojosa said Leidig, who scored 10 points for Grandview, was 4-for-4 from the free-throw line.
With only four more games left in the regular season, Hinojosa said his team is right where it wants to be.
The Lady 'Hounds will take to the court again Friday at Ki-Be and Saturday at home against Naches.
. Elena Olmstead can be contacted at (509) 837-4500, or e-mail her at eolmstead@eaglenewspapers.com
Connell 15 12 23 15 -65
Grandview 11 12 11 10 -44
Grandview- J. Rodriguez 21, D. Rodriguez 10, Cornejo 6, Leidig 4, Martinez 3.
Toppenish 4 7 11 12 -34
Grandview 10 14 19 10 -53
Grandview-Wysong 5, Tomizawa 5, Martinez 13, J. Rodriguez 2, D. Rodriguez 6, Cornejo 11, Hinojosa 4, Leidig 10.