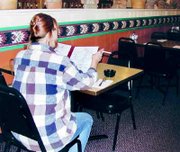 Smoked filled restaurants are quickly becoming a thing of the past. Legislation being supported by the Washington Restaurant Association could make it even tougher for smokers to find an eatery that allows them to light up.
House Bill 1670 would ban smoking anywhere minors are allowed and would limit smoking in those establishments that serve adults, such as taverns and mini-casinos. It would also require special separate rooms for smoking adults or a wall with special air ventilation for adult-only smoking sections.
According to Rep. Jeannie Darneille, one of the sponsors of the bill, the legislation will help protect children from second-hand smoke.
"This measure is a reasonable and proactive approach to a smoking ban that works for the public and for business," Darneille said.
Local restaurant owner Rob Rice of RC's Restaurant, Casino and Sports Bar said although he doesn't allow smoking in the restaurant portion of his facility, he doesn't support legislation that bans such activities.
Rice said he doesn't feel the government should decide for restaurant owners how their business should be operated.
"If enough people want no smoking, restaurants will go no smoking," Rice said. "It's our choice, what we think would be good for our customers."
Rice said he decided to make his restaurant a no smoking area because he knows there are people out there who don't want to be in the vicinity of people smoking while they eat. He added that because his facility also offers a casino and sports bar, where smoking is allowed, customers have a choice of where they want to sit and whether or not they want to smoke. He said he does have customers who will eat in the bar so they can smoke.
Mary Anne Bliesner with Snipes Mountain Brewing Inc. said her restaurant has been smoke free since it was first established in 1997.
"We decided to do that so we could have a nice atmosphere for everyone," she said, noting that their facility is more of a family restaurant.
Bliesner said most of her customers seem to appreciate the smoke-free environment. Although, she added that her staff does every once in awhile have to stop people from lighting up at the bar. But Bliesner said when that happens most people are okay with stepping out onto the back patio for a cigarette.
Gabriel Garcia of El Valle Family Mexican Restaurant, like Snipes Mountain, has never allowed smoking in his restaurant.
"It's good for business," Garcia said, adding that he has never gotten any complaints from his smoking customers.
Garcia added that he does allow smoking in the restaurant's lounge area, so his customers have a choice.
A local restaurant that does offer a regular smoking section is El Conquistador Mexican Restaurant on East Edison Avenue. Jose Mora, manager of the restaurant, said he has customers who come in and smoke in the facility, although he said it's typically no more than four or five a day.
Mora added that most of the time he doesn't even keep ash trays on the tables on the smoking side of the restaurant. Instead, he said if people want to smoke they simply have to ask for one.
Mora said at this point he is planning on staying smoke friendly.
The representatives supporting the bill are hoping to pass the legislation sometime this year.
"We don't need the expense of an initiative," said Rep. Jan Shabro, another sponsor of the bill. "As legislators, we can and we must pass this bill now and take the proactive and necessary step of banning smoking where minors are allowed."