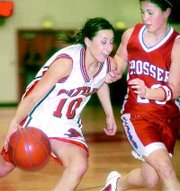 It was a tense moment as the Sunnyside team watched a shot put up by Prosser swish through the basket Friday night, putting the Mustangs two points ahead of the Lady Grizzlies. That basket, shot in the last few seconds of the game, meant a 60-58 loss for Sunnyside.
Sunnyside Coach Leo Gomez said the match-up was a close one from the beginning, with the Lady Grizzlies keeping pace with the Mustangs from beginning to end.
The first quarter ended with Sunnyside trailing by just two points, but by halftime Prosser had managed to stretch that lead to eight points.
Gomez said his team would get as much as seven or eight points behind Prosser, then rally back to tie the score. He said it went back and forth like that for much of the game.
The tension in the Sunnyside gym increased ten-fold as the seconds began to wind off the clock. Gomez said with just 28 seconds left in the game, sophomore Kerri Urrutia tied up the score with a free-throw shot. Then, just as things were looking promising for the Lady Grizzlies, Prosser sent a lob pass down the court for an easy two-point basket.
Gomez said his team tried to answer back as the last few seconds clicked off, but their shot didn't go in.
Gomez said the Lady Grizzlies played well Friday, staying in the game and keeping up with Prosser.
He added that senior Andrea Phillips played hard, scoring 22 points for Sunnyside.
"Andrea did a great job," Gomez said. "She shot the ball really well."
He said senior Victoria Sarmiento, with 11 points, also played well against Prosser. Gomez said she managed to sink three 3-point shots for the Lady Grizzlies.
"It made a big difference," he said of Sarmiento's 3-point shots.
Gomez said the fans were also great Friday, which was senior night.
"The support from the Sunnyside section was great," Gomez said.
Overall, Gomez said Sunnyside is a team that can play with anyone. He noted that his team has come close to winning games against some of the toughest teams in the league, pointing out the Lady Grizzlies came within three points of Hanford and two points of Selah.
"We're in every game," he said. "We have the ability. We just need to play hard."
Sunnyside will take to the court again Friday at Wapato. This is the team's last game of the regular season.
. Prosser 18 20 12 10 -60
Sunnyside 16 14 17 11 -58
Sunnyside-Phillips 22, Sarmiento 11, Alvarez 0, Caballero 0, Urrutia 6, Ruelas 2, Mendez 10, Pangle 0, Spini 7.