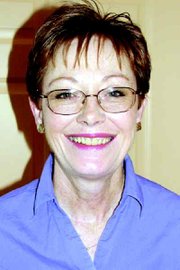 Melba Fujiura of Sunnyside has been elected president of the Yakima Regional Library Board of Directors.
Fujiura, who joined the regional library board two years ago, said she hopes to be a strong voice for the Sunnyside community.
In addition to representing the Sunnyside community on the board, Fujiura will also have the task of governing the board's decisions for the entire system.
"We will be seeing a lot of upgrades in the Sunnyside library as we go through the library annexation process," Fujiura said.
Fujiura is one of seven people who represent the libraries scattered throughout the county-wide system.
"All of our libraries are important to us, but since the Sunnyside annexation we will be making the upgrades in the Sunnyside library a priority this year," she said.
Among one of the board's 2005 priorities will be the hiring of a new head librarian for Sunnyside following the retirement of long-time head librarian Kay Saunders. Saunders retired from the system as of Jan. 19, Fujiura said.
"Kay will be badly missed. She was a dedicated librarian and was instrumental in bringing the computer system to the Sunnyside library," Fujiura said.
"We are now beginning the search for a qualified librarian to serve the Sunnyside library," she added.
The Sunnyside library was annexed into the regional system last year by a vote of the community, making it a part of the 19-library system in Yakima County.
Fujiura, who has lived in the Sunnyside community for the past 15 years, replaced Marion Furukawa on the regional library board. In addition to her duties on the regional library board, Fujiura serves on the Sunnyside Housing Authority Board of Directors. She is also active in the Sunnyside Lions Club and serves in regional Lions leadership positions.