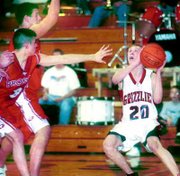 6'3" Reid Schilperoort and 6'6" Jake Thomas dominated the boards last Friday, powering the Sunnyside High School boys basketball team to a 66-57 win over the Prosser Mustangs.
Schilperoort and Thomas combined for 19 of Sunnyside's 37 rebounds. Prosser only came away with 17 boards.
"It was one of the keys to the win," said Sunnyside Coach Steve Urrutia. "We used our height to our advantage."
Thomas and Schilperoort, both seniors, also paved the way for the Grizzlies in the scoring column. Thomas shoved in a game high 19 points, which included knocking down 10 points in the third quarter, when Sunnyside broke open a relatively tight game with a 23-18 run. Schilperoort contributed 14 points, 6 of them in the final period, which gave him a double-double for the game thanks to his game high 10 rebounds.
Also in double figures for Sunnyside was Cody Heckert. The 5'11" senior popped in 10 points, six of those coming on two shots from 3-point land. Heckert, too, dished a team high six assists.
Junior Derrick Simmons, Sunnyside's point guard, also notched some heady numbers in the victory over the Mustangs. Simmons chipped in 7 points, grabbed six rebounds and was credited with five assists. He also did a good job protecting the ball, as the Grizzlies only committed 13 turnovers in the game.
Prosser freshmen Kellen Crawford and Cody Bruns led the Mustangs in the scoring column with 14 and 12 points, respectively. Crawford, who was just called up to the varsity last week, went on to score a team high 15 points against Othello on Saturday.
Friday's victory over the Mustangs ups Sunnyside's Mid-Valley League record to 4-7, 8-11 overall. The Grizzlies close out conference play this coming Friday at Wapato. A win against the Wolfpack will give Sunnyside the No. 5 seed into the District tournament.
. Bob Story can be contacted at
(509) 837-4500, or e-mail him
at bstory@eaglenewspapers.com
Prosser 14 12 18 13 -57
Sunnyside 16 11 23 16 -66
2-pt. FG-Prosser 18/33, Sunnyside 23/43. 3-pt. FG-Prosser 4/16 (Bruns 2), Sunnyside 5/11 (Heckert 2, Simmons 1, Duran 1, Thomas 1). FT-Prosser 9/16, Sunnyside 5/9. Rbd.-Prosser 17, Sunnyside 37 (R. Schilperoort 10, Thomas 9). TO-Prosser 11, Sunnyside 13.
Prosser-Iztas 2, K. Edwards 3, N. Edwards 3, Torrez 0, Bruns 12, Lochery 7, Brophy 6, Henry 10, Crawford 14.
Sunnyside-Cantu 3, Simmons 7, Heckert 10, L. Schilperoort 4, Crimp 0, R. Schilperoort 14, Thomas 19, Montelongo 0, Duran 7, Engel 2.