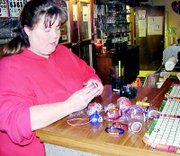 SPOKANE - The conference champion Sunnyside Grizzlies were the top finishing Mid-Valley League team at last Friday and Saturday's Sub-Regional wrestling tournament in Spokane.
Sunnyside, the Sub-Regional third place finisher behind Spokane's East Valley and North Central squads, qualified seven wrestlers for the Regional tourney. The top five finishers in each weight class at Sub-Regionals qualified to move on. Ellensburg will host Regionals this coming Saturday, with the top four finishers in each weight advancing to the State tourney.
The Grizzlies brought home three individual titles from Sub-Regionals. Posting perfect 4-0 marks were freshman Isaac Romero at 103 lbs., senior Steve Sanchez at 119 lbs. and senior Pete Garza at 275 lbs.
In winning the 103-lb. Sub-Regional crown, Romero improved his season record to 31-3. In Saturday evening's finals, the Sunnyside freshman clipped East Valley's Shelby Lawson by an 8-4 score.
Sanchez, who's already competed at the State tourney twice before, cruised to the 119-lb. Sub-Regional title. He blanked Wapato's Rosales 4-0 in the championship bout. With his four Sub-Regional victories, Sanchez is 26-1 on the season.
Garza, eighth at State last year, appears headed back to the big dance in Tacoma. The Grizzly heavyweight wrapped up Sub-Regional action by pinning James Gleason of Yakima's West Valley High School in the 275-lb. championship bout Saturday night. Garza's four wins at Sub-Regionals ups his season record to 28-4.
Sunnyside narrowly missed out on placing second in the team standings at Sub-Regionals. The Grizzlies tallied 183 and a half points, just three points behind runner-up North Central. The Sub-Regional hosts, the East Valley Knights, ran away with the team title by totaling 352 points.
Grizzly Coach George Paulus said East Valley was heads and shoulders above the rest of the field.
"It was almost like they had an unfair advantage," said Paulus. "They were a top ranked 4A team last year. At the 3A level this season, they just dominate."
East Valley will be the favorite to win the Regional team title this coming Saturday. Regional action will include not only the Mid-Valley and Greater Spokane schools, but the Pack Nine as well. The Pack Nine is comprised of such schools as Olympia, Centralia, Chehalis, Tumwater and Aberdeen.
While Romero, Sanchez and Garza all appear to have good shots of moving on to State from the Regional tourney, Sunnyside also has an excellent candidate for the State tourney in freshman Joseph Villanueva. At Sub-Regionals, he won his first three matches to earn a spot in the 125-lb. finals. One of those three wins came against West Valley's Kenny Pulcipher, who blanked Villanueva 5-0 earlier in the season. At Sub-Regionals, though, Villanueva defeated Pulcipher by an 11-7 score. In the finals Saturday evening, Villanueva ended up dropping an 11-0 decision to Wapato's Johnny Hurtado to settle for second place honors. Villanueva's 3-1 record at Sub-Regionals improved his season mark to 23-9.
Two of the seven wrestlers Sunnyside will take to Regionals won their consolation finals matches at Sub-Regionals for third place honors. The duo are sophomore Ricardo Rivera (112 lbs.) and Victor Moreno (160 lbs.).
Rivera, fourth at State as a freshman, knocked off Spokane's Brenden Parker-Risk by a 9-5 score in the 112-lb. consolation finals. Rivera's lone loss at Sub-Regionals was to East Valley's Brandon Plum, who ended up second in that weight class. Rivera improved to 27-7 on the season with his four victories at Sub-Regionals.
Moreno was a 3-1 winner over Jordan Brown of East Valley in the 160-lb. consolation finals. Moreno's 4-1 record at Sub-Regionals moves his season mark to 26-8.
The seventh wrestler Sunnyside will take to Regionals is junior Carlos Garza-Padilla. He placed fourth at Sub-Regionals in the 189-lb. division. Garza-Padilla was on the short end of a 10-2 score in the consolation finals against Pat Barnick of Yakima's West Valley High School. The Sunnyside wrestler, who compiled a 3-2 mark at Sub-Regionals, is now 22-14 on the year.
The Grizzlies nearly had an eighth wrestler qualify for Regionals, but in the match for fifth and sixth place honors freshman J.T. Gonzalez lost a 3-2 heartbreaker to East Valley's Anthony Rivera. Gonzalez, as the sixth place finisher at Sub-Regionals, will now serve as the 103-lb. alternate to Regionals.
All told, Sunnyside had 24 wrestlers competing at Sub-Regionals.
The first through 12th place finishing teams at last weekend's Sub-Regional tourney included: 1st-East Valley (352), 2nd-North Central (186.5), 3rd-Sunnyside (183.5), 4th-Clarkston (175), 5th-Hanford (135), 6th-Cheney (125), 7th-Prosser (122.5), 8th-West Valley-Yakima (112), 9th-Ellensburg (98.5), 10th-West Valley-Spokane (88.5), 11th-Wapato (87.5), 12th-Selah (69).