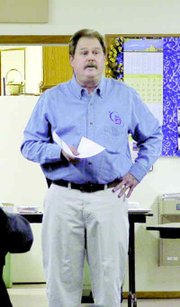 GRANDVIEW - More than 50 people piled into the fellowship hall at the Immanuel Lutheran Church in Grandview last night, waving checks and pushing to the front of the room for a slice of pizza. The crowded event served as the kick-off rally for the 2005 American Cancer Society Lower Valley Relay for Life.
Although the actual event itself is still three months away, now is the time for teams to start forming and to begin fund-raising efforts. Teams that signed up last night were able to get in with a discounted registration fee of $100 instead of the traditional $150 it costs to take part in the relay.
According to Marge Zylstra with Relay for Life, there are already 23 teams registered for the Lower Valley relay. She said that compares to 31 teams that took part in last year's event. She added that she expects many more teams to register as the relay gets closer.
During last night's rally teams learned about some of the new things they can expect as they get ready for this year's Relay for Life.
Cheri Stoker, community relationship manager with the American Cancer Society, said one of the biggest changes is the team registration form. She noted that this year the American Cancer Society opted to change from fill-in the blank types of forms to a scannable sheet. Stoker said the sheets need to be filled out in black ink, using all capital letters.
She explained that the change was made to help save the American Cancer Society money as they work to process the forms that come in from the 4,000 relays held across the country. She said with the previously used form, people would have to be hired to come in and key in all of the data from each of the forms. This way they can simply be scanned in using a computer.
Team captains won't be the only people dealing with the new forms. Stoker said each participant will have to fill out a scannable sheet with their personal information, as well as their t-shirt size.
Tim Smith, chair of the Lower Valley Relay for Life, said this year the rally, which is set to take place May 14-15, will begin at noon with the survivors lap and opening ceremony.
Smith added the Lower Valley Relay for Life committee is still in need of several committee members. Committee members are needed to serve as activities chair, media chair, survivor's event chair, opening and closing ceremonies chair, and food and beverage chair.
According to Smith, the activities chair works to coordinate activities that take place throughout the 24-hour relay. Smith added he would like to see every team put together an activity for the event, noting that it has to last anywhere from 30 to 40 minutes.
"There are a lot of things we could do," Smith said, noting that teams can organize anything from an egg toss game to a skit or scavenger hunt.
Smith also took time to let team captains know that if they put together a fund-raising activity sometime in the next few months to contact Frank Alec with KZXR radio. He said Alec is donating time on the air to help promote the different Relay for Life fund-raisers.
When it comes to fund-raisers, Smith also corrected some of the dollar amounts that were first published in regards to the cost of being a corporate sponsor for the Relay for Life. He said initial numbers were too high. Instead, corporate sponsorships run anywhere from $500 to $2,500.
Those interested in taking part in the Lower Valley Relay for Life can contact Stoker at (509) 783-1574 or Smith at 882-8155.