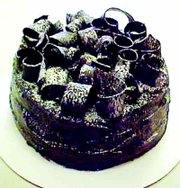 For the past four years Julie Borden has walked away from the Ultimate Chocolate Judgment, a chocolate contest held in conjunction with the Lower Valley Hospice's An Intimate Red Wine and Chocolate Affair, with one of the top prizes.
The first year of the competition her German Chocolate Cheesecake was selected above the other entries for its rich flavor and smooth texture and won the judges award, the only award given that year.
The second year of the competition, her Rich Chocolate Pecan Cake won the People's Choice award, a new category, which was voted upon by those attending the event.
The third year entry, a Caramel Fudge Cake, also won People's Choice honors, but it wasn't until last year she reached her ultimate goal to sweep both categories, winning both the approval of the judges and those attending the benefit. She was able to reach the goal with a Mocha Cafe Cake, that was topped with chocolate curls and powdered sugar.
"Most of them are flourless cakes," said Borden. She said the rich chocolate flavor the flourless cakes have seems to be a favorite among the judges.
"Flourless (cakes) are richer. You're relying on the chocolate, sugar and the eggs for the body," she said.
Although on some of her entries she has followed a pretty strict recipe, last year's entry and this year's are a hodgepodge of different recipes.
She explained that she didn't like the cake she chose to make for this year's event, but she did like some portions of the recipe, which she's keeping under close wraps until the day of the event.
Borden usually begins early in the year scouring cookbooks for the recipe that will become her entry in the contest.
"This year I drug my feet. I didn't start until after Christmas," she said.
Always looking for a new challenge, Borden tries new techniques and even looks through cookbooks for presentation ideas.
She found one recipe idea, but decorated the cake with chocolate curls shown in another recipe for last year's contest.
"Presentation is very important to me," she said. "I like to make the sample an individual dessert."
Each person entering a dessert is asked to make one full dessert for the five judges as well as 50 samples for those attending the event. On baking day, Borden's expansive kitchen is turned into an assembly line of chocolate, sugar and other ingredients used to flavor her creations.
It's on those days that her two daughters know to leave mom alone while she bakes. She finds the competition a challenge as she attempts to do better than the year before.
"It's addicting," she added.
Of the entries she has made, Borden said the Mocha Cafe Cake has been her favorite.
"My husband likes the Rich Chocolate Pecan Cake," she said. She said the difficulty of this year's entry exceeds previous desserts she has made.
"I'm still trying to figure out how I'm going to make individual desserts," she said.
Since she has been entering the Ultimate Chocolate Judgment, her desserts have been featured at Hogue Cellars and Alexandria Nicole Cellars.
Borden has been cooking since she was a little girl growing up in Oregon.
"I love throwing dinner parties and having friends over," she said.
Although she has cooked and baked a lot, she is still learning.
"A lot of it I teach myself and learn by trial and error," she said.
Chocolate isn't easy to work with, said Borden.
"It will go from a smooth, creamy consistency to hard as a rock. It's temperamental stuff," she said.
Using a good quality chocolate is important to creating memorable and delectable desserts, she said. Borden likes to use the darker, bittersweet chocolates in her creations.
"I'm not one to know what goes with what wine. I just know what I like," she said.
This year's Intimate Red Wine and Chocolate Affair will be held Friday, Feb. 18, from 7 to 9 p.m. at the Community Center in Prosser, 106 Merlot. Tickets are currently available for $20 for a single ticket or $35 for a couple. Dr. A and Friends will be providing the live entertainment for the evening.
Hospice spokesperson Lyla Wandling said contest organizers will be taking entries into the Ultimate Chocolate Judgment up until 6 p.m. the night of the event. Entry forms are available from the Lower Valley Hospice office in Sunnyside.
Each year about 10 people enter the competition vying for the $300 in prize money, which is divided between the two top bakers.
Desserts entered into the contest range from cakes and cheesecakes to brownies and candies, according to Wandling. Each of the desserts have one thing in common, chocolate.
Anyone interested in the benefit or entering a dessert can contact Hospice, 837-1676.
. Melissa Dekker can be contacted at (509) 837-4500, or e-mail mdekker@eaglenewspapers.com
Melissa Dekker/Daily Sun News
Chocolate bake-off winner Julie Borden flips through a cookbook and looks at a picture that inspired her cake presentation in 2004. Borden has won either the judges award or the people's choice award in the Ultimate Chocolate Judgment for the past four years.
Rich Chocolate Pecan Cake
serves 10
1 C. butter
8 1-ounce squares semisweet chocolate
1 C. unsweetened cocoa powder
1-1/2 C. sugar
6 eggs
1/3 C. brandy or cognac
2 C. pecans, finely chopped
Glaze:
4 T. butter
5 1-ounce squares bittersweet chocolate
2 T. milk
1 tsp. vanilla extract
Preheat the oven to 350°. Line a 9x2 inch round cake pan with wax paper and grease.
Melt the butter and chocolate together in the top of a double boiler, or in a heat proof bowl set over hot water. Set aside to cool.
Sift the cocoa into a bowl. Add the sugar and eggs and stir until just combined. Pour in the melted chocolate mixture and brandy.
Fold in 3/4 of the pecans, then pour the batter into the prepared pan.
Set the pan inside a large pan and pour 1 inch of hot water into the outer pan. Bake until the cake is firm to the touch, about 45 minutes. Let stand 15 minutes, then unmold and transfer to a cooling rack.
Wrap the cake in wax paper and refrigerate for at least six hours.
For the glaze, combine the butter, chocolate, milk and vanilla in the top of a double boiler or in a heatproof bowl set over hot water, until melted.
Place a piece of wax paper under the cake, then drizzle spoonfuls of glaze along the edge; it should drip down and coat the sides. Pour the remaining glaze on top of the cake.
Cover the sides of the cake with the remaining pecans, gently pressing them on with the palm of your hand.