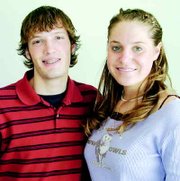 Chelsea Durfey and Brenden Scott, Sunnyside High School seniors and members of the National Honor Society, have been nominated to compete in the National Honor Society scholarship program, sponsored by National Association of Secondary School Principals.
According to Dennis Birr, SHS principal, Durfey's and Scott's nominations place them in national competition for one of 200 National Honor Society $1,000 college scholarships being offered.
Nominees are selected based on their leadership skills, participation in service organizations and clubs, as well as their achievements in arts, sciences and academics.
Scott and Durfey will each be expected to write an essay to support their nomination, Birr said.
Among Durfey's achievements are being named a scholar athlete three years running, as well as serving as a Senate page for Sen. Jim Honeyford. She was selected as an Evergreen State delegate and received a Masonic Academic Achievement Award. She is currently the high school student body secretary, and president of the SHS National Honor Society chapter. She hopes to attend Whitworth College.
Scott, who wants to attend Brigham Young University, is an Eagle Scout. He was also the team captain of the SHS varsity cross country team and the boys track team. Scott is also a member of SHS Key Club, Leaders in Action and Links Crew. He has also served as a tutor for English as a second language students. He has also been named in the Who's Who Among American High School Students for 2003 and 2004 and has received a number of inspirational awards for his athletic efforts.