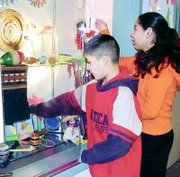 The bright colors, unique artifacts and lively music coming from a display case at Sunnyside's Harrison Middle School are enough to make anyone stop and take notice. It's once you take a minute to really look at the display that you can see evidence of all of the hard work and thought that was put into the Mexican-inspired decor.
The display case, put together by several seventh grade students in Kristin Peterson's humanities class, features Mexican needlework, traditional Mexican marionettes, colorful plates and paper roses crafted by every student in the class.
Peterson said the display case was inspired by the book "Esperanza Rising," a riches to rags story about a little girl growing up in Mexico. Peterson said the book outlines the little girl's privileged life in Mexico, which falls apart when her father is killed. Her family then immigrates to America, where she becomes a farm worker in California.
Peterson said her students took time to read the book and analyze it. She said she then had every student in her class make a paper rose with three petals describing conflicts Esperanza had faced in her life, and three petals describing conflicts her students had faced in their lives.
It's those roses that inspired the display case, which was put together by Chelsea Dimas, Osbaldo Arroyo, Sasha Castro, Andy Chavez and Jordan Esqueda.
Dimas said when her group originally starting thinking about their display they were planning on doing it separately with the girls decorating half of it and the boys decorating the other half. In the end, both groups worked together to create the colorful display.
Peterson explained the students had a week to make plans for their display, including one day to actually put the display together.
Each of the students involved with the current display brought things from home to use as decorations. Arroyo contributed a needlepoint of a donkey that was sent to his family from his grandmother in Mexico. Dimas said she brought in a colorful plate from home, which her mother brought with her when she immigrated from Mexico years ago.
"I think it came out pretty good," Arroyo said. He added that other students at Harrison complimented the group on their efforts as they were working on putting it together.
Peterson said every month a different group of students from her humanities class has a chance to decorate the display case, which is located in the first hallway coming into the middle school. She said so far this year her students have done a great job coming up with creative ideas for the case, including one group that put together a 1920s-themed display.