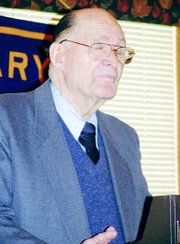 While Dr. Jack Hale admits his own life has been devoted to academic and scientific research, he can lay claim to being a member of a rabble-rousing family.
His ninth generation grandfather was a member of General George Washington's revolutionary troops during the colonies' war for independence in the 1770s.
Dr. Hale, a long-time Sunnyside optometrist, shared a bit of his grandfather's history with members of the Sunnyside Rotary Club this past Monday.
"I'm one of the few people in the Yakima County who can claim to be a member of the Sons of the American Revolution," he told the club members.
But in order to be classified as a member of such a distinguished heritage, Hale was required to trace his family tree back 10 generations to Germany in the mid-1700s.
His ninth generation grandfather, John Martin Shuck, born in Germany just two years before the birth of George Washington, came to the American colonies as a young man. He met his wife, Mary, while crossing the Atlantic and later married her in Philadelphia.
A miller and a farmer, the Shuck family patriarch fathered 12 children. When the revolution came along, Shuck and four of his older sons joined in the battle for freedom from England, Hale related. Hale told how soldiers in the American Revolution had to pay their own way.
"One man who gave up an entire fortune and later died penniless was American patriot Robert Morris, who was dedicated to fighting the war," Hale said.
Hale's ninth generation grandfather was among those soldiers who paid their own way and fought for freedom.
Hale said in order to become an official member of the Sons of the American Revolution, he had to hire six different researchers to help him with the task.
It was difficult to sort out who was the father in the Hale family line and who was the son, he said.
"The use of the same surname often led to the confusion," he explained.
His family was also among the earliest settlers in the Oregon Territory. One of his forefathers served as a wagon train pilot on the Oregon Trail, said Hale, who is also a member of the Oregon Society of the Sons of the American Revolution.
"Seven generations of my family have lived in Oregon," he added.
Hale said he considers being a member of the Sons of the American Revolution a great honor.
"We're rare birds," he said.