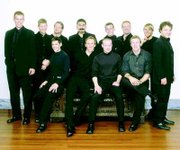 ELLENSBURG - Hailed by New Yorker magazine as "the world's reigning male chorus," Chanticleer will appear at Central Washington University as part of the inaugural season showcase series of concerts in the new music building.
Featuring a blend of 12 male voices, ranging from counter-tenor singing in soprano ranges to bass, the ensemble has earned international renown as "an orchestra of voices."
Peter Gries, CWU music department chair, describes this as "...a once-in-a-lifetime opportunity to hear a world-class ensemble in the incredible acoustics of Ellensburg's own world-class concert hall." The Grammy Award winning group will take to the stage in the new 625-seat, state-of-the-art concert hall Friday, Feb. 25, at 7 p.m.
Tickets, which are $20 general admission and $25 reserved seating, are available at the Tower Theater box office weekdays from 1 to 3 p.m., or by calling (509) 963-1774. Remaining tickets will be available at the door (cash or check only).
Chanticleer's CWU concert, titled "Women, Saintly and Otherwise," will range in style from Renaissance masterworks to spirituals, from folksongs to contemporary and classic choral works. The program is designed as a tribute to woman as ruler, composer, muse and creator.
It is one of 75 concerts that Chanticleer will present in a 28-state tour across the country this year, following the September release of the ensemble's 28th compact disc, "How Sweet the Sound: Spirituals and Traditional Gospel Music." Previous releases include "Colors of Love," which won a 1999 Grammy Award for Best Small Ensemble Performance, and "Taverner: Lamentations and Praises," which received two 2002 Grammy Awards.
For more information, or for persons of disability to arrange for reasonable accommodation, call (509) 963-1216, or (for the hearing impaired) TDD (500) 963-2143.