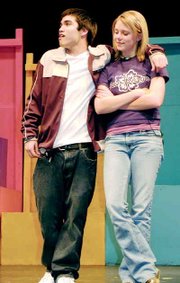 Get ready for the return of those crazy kids from "Old Rydell High," as the Sunnyside High School Drama Department present its production of Grease. Set to such songs as Greased Lightning, Summer Nights and Beauty School Dropout, the play illustrates the foibles of young love, career choices and the whole boy-girl thing in surprising reality.
The cast, under the direction of drama teacher Maisy Sylling, will present the play in five performances, Feb. 18, 19, 24, 25 and 26. Curtain time is 7 p.m. at the Sunnyside High School auditorium. Tickets will be available at the door at the cost of $3 for students and senior citizens, and $5 for adults.
Leading the cast of the popular musical is Tony Magana as Danny Zuko, with Cassie Herndon as Sandy Dumbrowski. Playing the parts of Betty Rizzo and Kenickie are Sunny Barnes and Michael Patzelt, respectively. The play will feature high school instructor Tom Dolan as the Teen Angel.
Starring as Doody and Frenchy are Brian Harvey and Claire Schilperoort. Matt Thomas will play Roger and Sarah Rasmussen is cast as Jan. The part of Sonny LaTerri will be held by Samuel Wise, while the part of Patty Simcox will be played by Angela Aguilar.
The parts of Eugene, Vince and Johnny will be played by Matt Barr, Jake Wavrin and Alex Jetter. Kate Bingham will play the part of the high school principal, Miss Lynch, with Crystal Soto playing the part of Cha Cha DiGregorio.
Chorus members and dancers will include Anthony Gomez, Jake Brandvold, Mitchell Sanchez, Tyler Thompson, Audra Vasquez, Corrin Veiga, Hannah Paulakis, Janelle Kilian, Jordyne Jaquish, Lacey Yanez, Marika McNerney, Nicole Wind, Danny Mendoza, Jesus Mendez, Sean Meininger, Amanda Graham, Brittany Amaro, Elizabeth Kennedy, Heather Van Corbach, Jillian Jetter, Julie Wedam, Lea Osowiecki, Maritza Mendoza, Raven Canales, Jon Martin, Angela Marin, Cora Freyse, Emily Shuttleworth, Helen Shuttleworth, Tiffany Weichbrodt, Karen Cook, Leslie Jones , Monica Cantu and Shana Rodriguez.