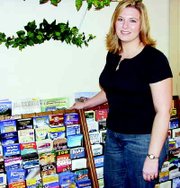 GRANDVIEW - After filling in as the interim office manager for about a month, Nicole Walker was recently hired by the Grandview Chamber of Commerce to serve as the community and member affairs manager.
While the chamber was searching for someone to fill the newly created position, Walker served as the office manager, keeping the members apprised of chamber activities and programs.
She applied for the position and it was offered to her.
The Grandview Chamber will be focusing on building membership, which is part of Walker's duties. The chamber is also looking to fill an assistant position and they will have a part-time office assistant.
"We're working with Sunnyside People for People to find someone to train to do office work," said Walker.
She anticipates that within the next few months the Grandview Chamber of Commerce office will be open Monday through Friday from 9 a.m. to 5 p.m.
Walker, who is attending classes part-time as well as working for the chamber, was formerly an administrator for an assisted living center. Involved in the Grandview Chamber of Commerce for the past three years, Walker is also a past board member.
After she completes a reorganization of the office, Walker plans to focus on chamber community events and membership. Walker said she hopes to expand the community events sponsored by the chamber.
Currently, the chamber has three major events, the chamber auction which will be held March 18 at Grandview High School, the Grandview Parade held during fair-time in August and the awards banquet held each fall.
"We want to get out there and promote tourism in Grandview," said Walker. "We have a lot of people out there who visit Grandview because of the wine industry. We think the businesses deserve to benefit from that."
She will be looking at increasing service to members, including business reports at no extra charge to members. Another service the Grandview Chamber is offering is a free link on its website for member businesses with websites.
Walker will also be putting together welcome packets for new businesses coming to the community.
Currently, the Grandview Chamber of Commerce has 111 members and is growing. Two new members joined in January and another two so far this month.
"Our goal is to at least grow to 150 this year," she said.
She said people have been attracted to the chamber's informative and exciting monthly meetings.
"When people see what we have to offer they are going to want to join," she said.
An all-inclusive group with members from Sunnyside, Prosser Yakima and the Tri-Cities, the chamber has monthly meetings the second Tuesday of each month, she said. The chamber has the equipment so that the meetings can be heard in English or Spanish.
"Our meetings are at 1 p.m. because we found that it was a time that worked for more people," said Walker. "We're looking into having a quarterly or monthly evening meeting for those members who want to attend, but can't during the day."
Born in the Lower Valley, Walker moved to the Seattle area when she was young. She moved back to Grandview about 12 years ago.
She is married to Gary Walker.