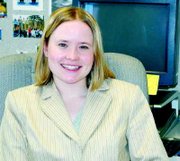 Looking not much older than the young children under her care, Sunnyside Pioneer Elementary School Vice Principal Jennifer Allen is proving to be a dedicated and driven school administrator.
Noting that she might be one of the youngest principals in the state, Allen, 26, works with Principal Kris Diddens at Sunnyside Elementary School. It's a job she is loving. "It's the job I've always wanted," she said.
Describing herself as being super motivated, Allen went directly from classroom teaching to the administrative level.
"I love teaching she said. "But I've always been drawn to leadership roles. I've always wanted to use my skills to impact more people," she said.
As an assistant principal she is able to work with students while sharing information and techniques with teachers.
"As a teacher, I got to know about 25 children, but as a principal I have 900 children and I also get to work with their parents," she said.
In fact, working with parents is one of her major duties this school year. Recently, she assisted with the newly formed Parent Boosters Club's free movie night.
"It's exciting to see the parents and the children so excited about being involved," she said.
A graduate of Washington State University, Allen earned her Master's in teaching from Whitworth College and her principal's certification from Seattle Pacific University.
While someday she hopes to be principal of her own building, for now the vivacious, young professional is busy handling learning enhancement programs and discipline issues at Pioneer Elementary.
"We are doing great things here," she said.
For example, she said, this month launches the Pioneer Space Voyagers after-school program for fourth graders. She said the program will help fourth graders prepare for their WASL tests to be administered in the spring.
"Kids are really excited about the program," she said. "They keep stopping me on the playgrounds to ask when it will get underway," Allen said. The Space Voyagers program begins Feb. 14.
Before coming to Sunnyside to be an assistant principal, Allen taught for three years in the Snoqualmie Valley School District. She also taught for a short time at the International School of Paris, France as part a multi-cultural experience for her Master's degree.
"I hope to return to Paris again maybe next year," she predicted.
For now, Allen is content to learn all she can working with Diddens and her circle of Pioneer school mentors.
"I'm learning a lot at this school," she said.
When not at school, Allen and her husband, David, are busy working on their home, which they purchased in Grandview.
"He is finishing up on his Master's in accounting," Allen said.
"He'll be done in August so he is beginning to see light at the end of the tunnel," she said.