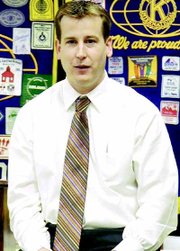 Sunnyside High School teacher Ryan Maxwell, who is currently completing his administrative internship at the school, spoke to Sunnyside Kiwanis Club members last week about the new life coach program instituted at the high school.
Maxwell said he saw a need at the school because students were falling through the cracks and dropping out before graduation.
The state dropout rate is about 38 percent. It is slightly higher in the Sunnyside School District at about 40 percent, he said. The number of dropouts has decreased from 50 years ago, when only about 50 percent of students graduated from high school. But with the no child left behind act, the schools are expected to graduate 100 percent of students. The majority of kids drop out after the ninth or 10th grade year.
The definition of a dropout is more than just a kid who quits school. Maxwell said a dropout is any kid who doesn't graduate in four years. He said a lot of "dropouts" may actually be a student who transfers to another school, or a five-year senior.
Many students aren't learning what they need to know before they reach high school and flunk classes. Maxwell said without a school retention program students who fail classes at the middle school level move onto high school. He said Sunnyside School District Superintendent Rick Cole is currently developing some kind of retention program.
"The last 20 years social promotion has been the norm," he said.
He added with the no child left behind act's requirements, the schools can't afford to socially promote students.
"Last year, 280 kids in the ninth grade received at least one F. Ninety of the kids received three or more," he said.
Two years ago Maxwell really began seeing a need for mentors at the high school, so he began searching for a program that could be implemented by the school district.
One nationally known program called 'Check and Connect' costs about $1,000 per kid per year, he said. Looking for a low or no-cost alternative, Maxwell came up with life coaches. Asking for teachers to volunteer, about half of the staff, or 25 teachers, volunteered to mentor students in the school.
Maxwell said each teacher has four to six students they meet with at least two hours every two weeks. He said it could be before or after school on weekends or in the evenings, whenever the teacher decides.
The teachers check the students' progress, grades and behavior as part of the program.
Through May the life coach program will be in a trial phase and Maxwell said the hope is that next year it will be on a larger scale.