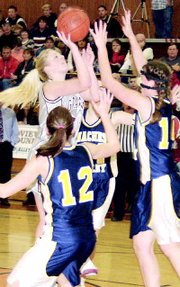 The Grandview Lady Greyhounds are still busy plowing through their regular season, working hard to keep their third place ranking in the CWAC division. This past weekend, the team split its games, possibly jeopardizing a top three finish for Grandview.
Grandview played Ki-Be last Friday night, winning by a score of 56-41. However, things didn't go as well Saturday night, when the Lady 'Hounds took on Naches and lost 52-47.
Friday night Grandview came out strong, quickly racking up 13 points in the first quarter and taking an early lead over the Bears.
"We looked very well," said Grandview Coach Adolfo Hinojosa.
He said his team clamped down on defense from the get-go, not letting down its guard until after intermission. Hinojosa said after halftime his team switched into a half court defense, hoping to save some energy for the game the next night against Naches.
Hinojosa said overall his team shot well against the Bears. Overall, Grandview shot 51 percent from the field, including hitting 6-for-8 from the free throw line.
Leading scorer for Grandview Friday night was senior Jessica Rodriguez, who put 18 points on the board for the Lady 'Hounds. Hinojosa said junior Tonhya Wysong also did a good job for Grandview, scoring 14 points against the Bears.
Hinojosa said it was great to see double-figure scoring from Wysong, the team's point guard.
Saturday night, Grandview managed to get off to a strong start against Naches, outscoring them in the first quarter and going into halftime with a 23-16 lead.
"We started off playing strong," Hinojosa said.
But Hinojosa said it was Grandview's shooting that would ultimately lead to the team's loss. The Lady 'Hounds were 9-for-20 from the free throw line and shot 28 percent from the field.
"It was just poor shooting that really cost us the win," said the coach.
He said Grandview only scored three points in the third quarter and that was the turning point in the game. Following the third quarter the Rangers found themselves ahead, 28-26. Even with Grandview coming back to score 21 points in the fourth quarter, Naches still managed to sink a few more shots and beat out the Lady 'Hounds.
Hinojosa said Naches managed to hit some crucial free throws against Grandview, shooting 7-for-8 from the line.
"They really knocked their free throws down when they needed to," he said.
Hinojosa said the loss to Naches means that Grandview is no longer assured of a third place finish in the CWAC.
According to Hinojosa, Grandview will have to win at least one of its games this week to ensure their third place standing.
Grandview will take to the court again tomorrow night (Tuesday) at East Valley and then Friday night at home against Othello.
Grandview 13 11 17 15 -56
Ki-Be 7 7 12 15 -41
Grandview- Wysong 14, Tomizawa 1, Meza 2, Martinez 2, J. Rodriguez 18, D. Rodriguez 6, Cornejo 8, Hinojosa 3, Leidig 2.
Naches 6 10 12 24 -52
Grandview 13 10 3 21 -47
Grandview-Wysong 9, Martinez 3, J. Rodriguez 18, D. Rodriguez 1, Cornejo 6, Luper 4, Hinojosa 6.