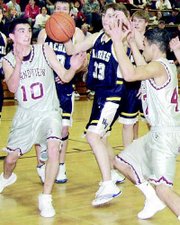 The Grandview High School boys basketball team moved into first place in the Central Washington Athletic Conference south division, following a weekend sweep of Kiona-Benton and Naches Valley.
The Greyhounds (9-1, 16-2) also got a bit of help from Toppenish this past weekend, who upset Connell to knock the Eagles down to second place in the league standings.
Grandview came away from the weekend with a 49-38 win at Kiona-Benton on Friday and then beat Naches Valley 65-53 at home on Saturday.
The Greyhounds had their trouble Friday night at Ki-Be.
"We seem to always struggle a little bit there," said Grandview Coach Scott Parrish.
The Bears were able to keep the first half interesting, only trailing 24-15 going into intermission. Grandview's defense was key in the second quarter, holding the Bears to only three points.
Parrish said Grandview played good defense, but made some poor shot selections.
The Greyhounds didn't make many mistakes in the third quarter. Grandview whipped Ki-Be 21-8 to open the second half.
"We were a lot more aggressive," said Parrish. "We got a few turnovers."
Parrish sat his starters in the fourth quarter, which the Bears won 15-4.
"I was a little disappointed in the fourth quarter that our reserve guys didn't play a bit better," said Parrish.
Chris Mejia had a nice night for the Greyhounds with 21 points, going 10-for-16 from the field. Teammate James Vela added 7 points and eight rebounds.
Parrish said the big difference in the game was the play of his defense in the middle two quarters.
Mejia once again led the Greyhounds Saturday night at home against Naches Valley.
Mejia posted a double-double with 26 points and 13 rebounds.
"He played really well," said Parrish.
Vela also had a solid outing with 17 points and five rebounds. Also standing out for the Greyhounds was Adam Dion with 9 points and eight rebounds.
After trailing 15-13 at the end of the first quarter, the Greyhounds put some room between them and the Rangers with a 22-14 run in the second. Grandview put the game away with a 17-11 run in the fourth.
The Greyhounds had a phenomenal showing at the free throw line, hitting 25-of-31 shots. Parrish said Naches Valley fouled a lot in the fourth quarter. Naches Valley was only 12-of-17 from the free throw line.
Grandview went into the game with the idea of containing Naches Valley's Isaac Tait, who finished the night with 7 points. Parrish said he didn't want Tait to get started for the Rangers. Parrish was pleased with the way his team played against Naches Valley's other two standouts, Matt Clark (15 points) and Justin Weller (17 points). Weller scored most of his points from the free throw line, going 9-for-11.
Parrish said Grandview was able to challenge Naches Valley in transition, which was a key part of the game.
The Greyhounds will have their hands full Tuesday night at East Valley.
"They will definitely be ready for us," said Parrish. "We will have to play real well and see what happens."
1 2 3 4 T
Grandview 15 9 21 4 49
Ki-Be 12 3 8 15 38
Scoring: Grandview-Chris Mejia 21, Anthony Andrews 8, Brandon Artz 7, James Vela 7, Cordero Cisneros 3, Adam Dion 2, Brad Copeland 1.
Ki-Be-Josh Fernald 11.
Rebounds: James Vela 8.
Assists: James Vela 4.
1 2 3 4 T
Naches 15 14 13 11 53
Grandview 13 22 13 17 65
Scoring: Grandview-Chris Mejia 26, James Vela 17, Adam Dion 9, Cordero Cisneros 8, Anthony Andrews 5.
Naches-Justin Weller 17.
Rebounds: Chris Mejia 13.
Assists: James Vela 5.