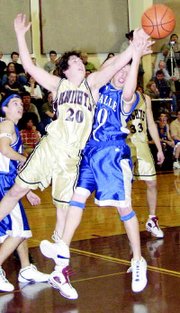 Sunnyside Christian High School boys basketball coach Dean Wagenaar had said before Friday night's regular season finale against LaSalle that if his players weren't ready to show up and play by now, then they never would be.
Boy did his players show up Friday night. The Knights left little doubt against the Lightning, winning 74-46, to claim the Greater Columbia 'B' League northern division title outright.
The win also gave the Knights a first-round bye in the District playoffs, which begin this Tuesday night in Goldendale. Sunnyside Christian will play the winner of Tuesday night's Mabton/Trout Lake game this coming Friday at 8:15 p.m. at Sunnyside High School.
The key in Friday night's game at home against LaSalle was defense. The Knights ran a diamond and one defense. What was crucial, said Wagenaar, is that his team was able to switch on the diamond and one when LaSalle would run a pick for the player being guarded.
"Defensively, I thought we did a nice job," said Wagenaar.
Another instrumental part in the game was the Knights being able to shut down LaSalle's Chase Marquis, the second leading scorer in the Greater Columbia 'B' League. Marquis had 2 points on the night.
"Jordan (Haak) and Matt (Haak) shadowed him all night," said Wagenaar.
The diamond and one defensive set worked well, as the Knights burst out to a 17-4 lead in the first quarter. Sunnyside Christian struggled a bit in the second quarter, winning the period 10-6.
Wagenaar said the score would have been higher if his team had nailed some 3-point shots that went in and out.
"We didn't shoot very well in the first half," said Wagenaar.
The game took an aggressive spin in the second half. After being called for just five fouls in the first half, the Lightning were dinged for 22 fouls in the last two quarters. Wagenaar said he was very pleased with the way his team responded in the second half under some intense pressure from LaSalle.
The Knights were led in scoring by Jordan Haak, who had a game-high 20 points, which included 10 points in the third quarter. Wagenaar said Haak did a nice job of responding to the pressure by LaSalle in the second half.
Another player who had a nice night for the Knights was Sean Tudor, who finished with 6 points and 11 rebounds.
The Knights finished the regular season with a record of 12-1 in league and 19-1 overall. Sunnyside Christian's only loss of the year was early in the season to Riverside Christian.
Wagenaar said he is looking forward to postseason play and seeing what his state third-ranked Knights can do as they try to make their way back to State at the Spokane Arena.
"We will give it a go," said Wagenaar. "I worry about every (team). There are no off nights. You have got to go to battle every night. It is about coming in and being ready to play every possession."
1 2 3 4 T
LaSalle 4 6 10 26 46
SCHS 17 10 17 30
Scoring: SCHS-Jordan Haak 20, Chad Den Boer 14, Andrew Schutt 11, Aaron Van de Graaf 7, Sean Tudor 6, Ben Decker 5, Matt Haak 4, Derek Van de Graaf 3, Nick De Jong 2, Justin Burgers 2.
LaSalle-Cory Rivard 13.
Rebounds: Sean Tudor 11 (six offensive), Andrew Schutt 9, Derek Van de Graaf 6, Jordan Haak 5.
Assists: Andrew Schutt 5, Jordan Haak 4.