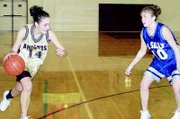 Washington state's top ranked Class B girls basketball team, the LaSalle Lightning, didn't have any thunder bolts left at the end of last Friday's game to singe the Sunnyside Christian Lady Knights.
In a stunning upset to close out the regular season, the Lady Knights knocked off LaSalle, 46-44.
LaSalle, which brought a perfect 11-0 Greater Columbia 'B' League record into Friday's game, had an opportunity to send the game into overtime. But a last second shot from inside the paint, off the hands of Crystal German, went for naught.
The Lightning cut Sunnyside Christian's five-point lead to just 46-44 when Jasmine Stohr hit an NBA-range 3-pointer with about five seconds to go. Following a Lady Knight turnover, Sunnyside Christian's 28th of the game, German got off a last second shot that would have tied the contest. The ball refused to fall, though, and the Lady Knights hung on for the unlikely win.
Emma Hernandez and Tyssyna Van Wingerden were the catalysts for Sunnyside Christian. The two combined for 27 of the Lady Knights' 46 points.
The key to the victory was Sunnyside Christian's ability to break LaSalle's press.
Offensively, said SCHS Coach Al Smeenk, his club spread the floor and penetrated whenever it found an opening.
"It's too tough to run a set offense against them," Smeenk said. "We had to spread things out and get more creative with our scoring."
The Lady Knights (9-3, 13-7) finished up as the Greater Columbia 'B' League Yakima County Division's third place team, behind LaSalle and Riverside Christian. Sunnyside Christian will open District play this Tuesday against the runner-up of the Klickitat County Division, the Bickleton Pirates. The loser-out game is scheduled for 6:30 p.m. tomorrow in Goldendale. A win against Bickleton would propel the Lady Knights into a District tournament semifinal game against LaSalle this coming Friday, slated for 6:30 p.m. at Sunnyside High School.
LaSalle 11 12 8 13 -44
Sunnyside Christian 14 13 10 9 -46
LaSalle-Stohr 20, McGree 8, Gosser 9, Newell 2, German 5.
Sunnyside Christian-Ja. Roberts 0, Jo. Roberts 4, To. Van Wingerden 7, Ty. Van Wingerden 13, DeGroot 7, Rice 0, Hernandez 14, Mensonides 1.