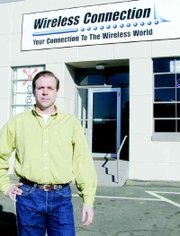 Looking for cellular telephone service in the Lower Yakima Valley just got easier. Wireless Connection, a new business located at 712 Yakima Valley Hwy. in Sunnyside, offers customers a chance to choose between AT&T Wireless, Cingular and T-Mobile cell phone service.
John Nyboer, account executive for the local Wireless Connection store, said it's nice to be able to offer his clients a choice when it comes to which service provider they would most like to go with.
"It's nice to have options," Nyboer said. "There are some tools some offer, while others don't."
Nyboer, who spent more than 11 years working for AT&T Wireless, said it also means that those people who he set up with AT&T Wireless accounts 10 years ago can still come into the store for help, without feeling like they need to switch service providers. He said for many of them there is no reason to switch.
Nyboer explained that Wireless Connection is a regional chain, which started out as Performance Auto Sound more than 15 years ago. He said there are stores from Wenatchee to Walla Walla, including the new one that just opened here in Sunnyside.
According to Nyboer, Performance Auto Sound started off selling car stereos and cell phones, but soon found that the phones were big business. Nyboer said the company decided to separate the car stereos from the cell phones and came up with Wireless Connection as the title of the new phone division.
Despite having worked in the cell phone industry for more than a decade, Nyboer said he had most recently been working in the agricultural industry, selling cherries and grapes. But Nyboer said when he was approached by Wireless Connection to serve as an outside salesperson for the company and they agreed to meet his requirement of setting up a formal office in Sunnyside, he decided it was time to get back in the game.
Nyboer said since the new business opened its doors on Dec. 1, 2004, it has been nice to be able to work with some of his old clients from AT&T Wireless, as well as work with other members of the public.
Nyboer isn't the only person working out of the new office. Marci Rodriguez serves as the retail sales specialist and Nyboer's co-worker.
Nyboer said having a formal office allows Wireless Connection to have a more retail environment. He said even though he does outside sales and spends a lot of time out and about meeting with clients, more than 90 percent of the business' customers are still coming through the door.
.