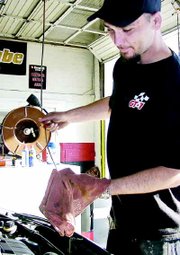 Dave Parmeter of the Tri-Cities has 22 years experience in the express oil change business. For the past six years he has owned Autobahn, a quick lube service located on Clearwater Avenue in Kennewick.
Looking to expand, he said the opportunity arose to open a second store in a vacant building in Sunnyside.
"I've always liked Sunnyside," said Parmeter. "I think it's a progressive little town."
Not passing up the opportunity, Parmeter opened Autobahn West, located at 820 Yakima Valley Hwy. The site is the former location of a quick lube service that closed more than three years ago.
Parmeter hired a faithful employee, Dathan Worthington, who recently relocated to the Lower Valley, to manage Autobahn West. Worthington has worked for Parmeter for the past three years in Kennewick.
"He's a good kid who needed an opportunity to go and I passed it onto him," said Parmeter.
Open just two weeks, it actually took several months for Worthington to get the building ready for business.
The lobby has been scrubbed and painted and a new tile floor greets customers.
They also had to rebuild some of the machinery left in the building when it was abandoned.
"It looked like everyone just left what they were doing and shut the doors," said Worthington of when the business closed three years ago.
With the focus on quick service, Parmeter said, "The service is under 15 minutes and customers get a free cup of coffee and a newspaper while they wait."
According to Worthington, Autobahn West will provide basic to full-service oil changes. He hopes to be able to expand in the future adding transmission and radiator flushes to the services offered.
Currently, full-service orders include vacuuming, window cleaning and a free oil top off.
"If someone who has had full-service is going down the road and their car is using a lot of oil they can come in and have their oil topped off," he explained.
Also part of the service is checking for leaks under the car.
Worthington added that an important aspect of their work is keeping the underside of the cars clean from oil.
"We like customers to ask questions," he added. "We want them to ask questions about their cars and to become better car owners."
The business, which is open Monday through Saturday from 9 a.m. to 6 p.m., also offers commercial accounts. Worthington said those with commercial accounts receive a 10 percent discount on their services.
.