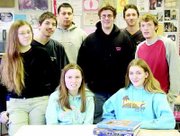 Sunnyside High School's Apple Bowl team, the reigning champions, will head back into competition when the 25th season of the KYVE Apple Bowl opens later this month.
Sunnyside High School's Apple Bowl team, lead by advisor Dan Thomas, will not actually be seen on the televised knowledge bowl until mid-March.
"Our 2005 team will begin taping March 1 for broadcast on March 24," Thomas said.
On this year's Apple Bowl team are members of the SHS Knowledge Bowl team, who are headed to regional competition Monday, Feb. 28, Thomas said.
Knowledge Bowl team members include Amanda Myers, Elizabeth Kennedy, Meagan Downing, Albert Sanchez, Michael Alanis, Brenden Scott, Danny Mendoza, Kevin Lick and Jeff Martin.
"We will be pulling from the Knowledge Bowl pool of talent to comprise our Apple Bowl team," Thomas said.
As the 2004 Apple Bowl champions, the Sunnyside team will again compete for an opportunity to bring home a $2,000 savings bond and the traveling trophy now on display at the school.
This year's winning team will also receive first place medals and a plaque for permanent display at their school. The second place team will receive a $500 savings bond and second place medals. All participants will receive t-shirts for taking part in the competition.
Currently, Thomas's team is focusing on making it through Knowledge Bowl Regionals to be held at Davis High School in Yakima. "We should be able to advance to State," Thomas said.
Still, the team is excited to be participating in the only televised high school quiz contest in Washington state.
As the reigning champs, the Grizzlies will face teams from 25 Central Washington high schools. The students will demonstrate their knowledge in lightning fast response to questions during the half-hour broadcasts.
The KYVE Apple Bowl, aired over cable channel 8, will be broadcast on Tuesdays, Wednesdays and Thursdays at 5 p.m., beginning today (Feb. 15). Each program will repeat on Sundays from 8 to 9:30 a.m. The Apple Bowl semi-finals will air April 5 and 6 at 5 p.m.
The championship contest will air on prime time at a date to yet be announced.
The 2005 KYVE Apple Bowl is produced by KYVE Television in collaboration with Central Washington University, and is underwritten by the Washington Apple Education Foundation, Shields Bag and Printing and Yakima Theaters.