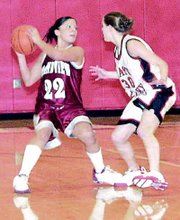 MOXEE - Grandview was able to stay close to the East Valley Red Devils for half of the game, but it wasn't enough for them to come anywhere near taking home the victory the team was hoping for.
Tuesday night, the Lady Greyhounds had trouble stringing their scoring together, doing well in the second and fourth quarters, but not keeping control of things in the first and third quarters. The inconstancy helped lead to a 62-39 win by the Red Devils.
"We just didn't put any quarter together," said Grandview Coach Adolfo Hinojosa.
He said East Valley played well against Grandview, executing its offense and defense very well. Hinojosa noted that Grandview, on the other hand, had trouble executing its offensive and defensive plans for the night.
Hinojosa said going into the game the Lady 'Hounds had planned to run a full court press against East Valley, but with transitions not going smoothly he had to make some changes. Hinojosa said he switched over to a man-to-man defense during the last three quarters of the game.
It was when the team switched into a man-to-man defense that Grandview seemed to gain a little control over East Valley. Hinojosa noted that by the time the fourth quarter came around, the Red Devils were starting to look a little tired.
"They're not used to teams playing man-to-man on them," Hinojosa said.
The coach said his team was missing the little things last night. He said his team was not only not making quick transitions from offense to defense, but were also missing easy lay-ins and free throws.
"Free throws are still the monkey on our back," Hinojosa said, noting that his team was 10-for-20 from the free throw line.
He said free throw shooting is something the team needs to transfer from practice to games.
Helping the Grandview team pull together against East Valley was senior Mari Cornejo, who had 12 points and nine rebounds for the night.
Hinojosa said Cornejo did well both offensively and defensively for the Lady 'Hounds. He added that she is getting to the point where she is scoring nine to 10 points per game for Grandview.
The loss to East Valley means that Grandview's third place position in the CWAC division is in jeopardy. The team (6-5, 10-9) will have to win its next game, Friday at home against Othello, to ensure it finishes the season in third place.
Grandview 8 12 8 11 -39
East Valley 18 14 16 14 -62
Grandview- Wysong 5, Martinez 1, J. Rodriguez 12, D. Rodriguez 2, Cornejo 12, Hinojosa 5, Luper 1, Leidig 1.
GHS #1