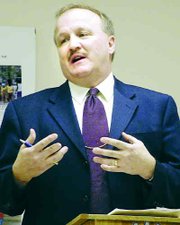 The Sunnyside School District is a large entity in the community, employing 700 staff members, working with 6,000 students and just as many parents. With so many people involved, the school district is a very busy place.
This morning (Wednesday), Sunnyside School Superintendent Dr. Rick Cole talked to members of the Sunnyside Daybreak Rotary Club about some of the interesting things taking place in the district.
Cole said the main goal of the Sunnyside School Board is to improve student learning, which is being done in a number of ways, including the implementation of all-day kindergarten and placing more emphasis on improving literacy at all grade levels.
Cole said the school district is also looking at changing its approach to grade promotion. Instead of simply being promoted to the next grade every year, students will be held accountable. Cole explained that students will need to reach a certain score on their MAP tests or face being tapped to attend summer school. Cole said this approach has caused quite a stir among the students.
Cole then talked about the school district's facilities.
"The facilities we have are full," Cole said. "There are no empty classes in any of the schools."
He said these issues will be addressed when the new middle school comes on-line in 2006. According to Cole, when the new middle school opens its doors several things will change. Chief Kamiakin will go from being a fifth and sixth grade school to becoming the district's fourth school to house kindergarten through fifth grade students. This will help alleviate crowding at the elementary school level, and maybe even allow for the removal of some of the older portable classrooms. Cole added the new school will mean more room for sixth, seventh and eighth grade students, who will be attending two middle schools instead of one. Cole told Rotarians that students attending Washington and Outlook elementary schools will go the new middle school, while students at Pioneer and CK will attend classes at Harrison Middle School.
Cole said another facility improvement that could be coming down the pike is the creation of a Lower Valley vocational skills center.
According to Cole, the Port of Sunnyside is looking at the possibility of donating 8.3 acres of property located behind the Mid-Valley Mall for the creation of a skills center that would service several Lower Valley school districts, including Sunnyside, Grandview, Mabton and Granger. He said the Lower Valley skills center would also work with the skills center in Yakima to ensure that programs are not being duplicated.
Cole noted that moving some of the vocational offerings at the high school to a new vocational skills center could also help to create more breathing room at the high school.
Cole said one of the difficulties the school district faces is that of communicating with parents and other members of the community. He noted that when working with 6,000 students, the school district is also trying to work with at least 6,000 parents.
"There are 6,000 parents in our community we really want to engage in our schools," Cole said.
He noted that the school district regularly sends out a bilingual newsletter and tries to get information on different school meetings out to parents in as many different forms as possible, but there is still a lack of involvement.
Cole said in order to make this situation better, the school board is trying to implement some new procedures, including developing superintendent open office hours at each of the buildings in the district and utilizing an annual community, parent survey for feedback.
When it all comes down to it, Cole said the main goal of the school district and the school board is to ensure that student achievement comes first.