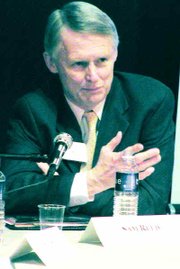 PASCO - Emotions ran high last night as Central Washington voters talked to members of the Washington State Election Reform Task Force about their thoughts on the 2004 general election. People stood up and said they were angered by how the election was handled, to find out later that provisional ballots had been counted with regular ballots, that felons' votes were counted and that even a few deceased people had votes that were tallied.
However, it's issues like these that the task force is hoping to eliminate. Wednesday night, the task force, made up of Secretary of State Sam Reed, former Washington State Senator Betti Sheldon, former Washington State University President Sam Smith and former Washington State Senator Larry Sheahan, listened to people's concerns and provided answers whenever they could.
"What we're trying to do is get feedback and information from people," Smith said. He noted that information collected during the task force's four public meetings will be presented to Gov. Christine Gregoire no later than March 1.
Reed also took time to talk about some of the election reforms that are included in the nearly 100 bills facing the legislature this session.
Reed said the closest governor's race in the history of the United States between Rossi and Gregoire has, in many ways, become an opportunity to learn.
First, Reed noted that a lot of things have changed since the state's election system was first put into place. He said now more and more people are voting by mail instead of taking time to visit their polling places on election day. Reed said changes like his need to be taken into account as the state's election system is updated.
Reed said the state is currently in the middle of a time of change. He explained that across the state counties are eliminating punch card ballot systems and that his office is working to create a statewide voter database.
Reed explained that statewide voter database is something that will be operated out of his office, and will include all of the information on voters throughout the state. He noted that now there are voter databases, but there are 39 different systems with each county controlling their own information. He explained that a statewide database would mean that all of the information from the counties would be fed into one central system. Information concerning deaths and felony convictions could also be fed into the system, keeping the voter database as up-to-date as possible.
"This statewide database is going to be very, very helpful," Reed said.
Reed then explained some of the issues that came up during the last election. He said there were provisional ballots which were accidentally thrown into the count in different precincts without verification of whether or not the ballots had been cast by registered voters. Reed said those provisional ballots need to be made more distinctive, noting that they should either be a different color than the regular ballots or should have some sort of barcode on them that will ensure that machines spit them out if they are accidentally placed in the hopper.
Military votes also came to be an issue during the last general election. Reed said although every county in the state managed to get their military ballots out on time, once they arrived in combat areas the process became delayed. Reed noted that the state works very hard to ensure that military votes are counted. He said men and women in the military are given many unique opportunities to vote, including being able to fax in their votes.
Reed said one way to help ensure military votes are given the time and attention they deserve would be by pushing up the date of the primary election.
He said pushing the primary election up would also give county officials more time to make the transition from the primary to the general election.
"We need to give them some time to do it right," Reed said.
In the case of felons voting, Reed said this is something that should not be happening. He noted that felons who have served their time can go back to court and ask to get their right to vote restored, but that is the only time their votes can count. Reed said this issue is one that could be solved with the creation of a statewide voter database. The database would also make it impossible for the ballots of the deceased to count.
Reed said there are other election reforms being introduced, including making it necessary for people to show proper identification when they vote and creating a primary voters' pamphlet. He said the legislature is also looking at making it necessary for all counties to certify their election results at the same time, making election equipment uniform across the state and performing reviews of the different county auditors offices across the state to ensure that all rules and regulations are being followed.
Many of the more than 90 people in the audience last night agreed with a majority of the reforms mentioned by Reed and the rest of the task force. Citizens from as far away as Ephrata and Toppenish noted that making people show photo identification to vote is important.
Larry Haak of Outlook was one of several people in the audience who brought up the idea of having a statewide re-registration when it comes to voting. He noted that re-registering would give the state a clean slate to start from when creating a statewide database. He noted that he also agreed with the idea of people showing identification at polling places.
LaDon Linde of Outlook said he endorsed a lot of what was said during the public forum.
"A statewide database makes sense," Linde said.
Those who attended the forum were provided with a questionnaire to fill out regarding their thoughts on election reform. Those who were unable to attend the meeting can fill out the form on-line at www.governor.wa.gov/electionreform.