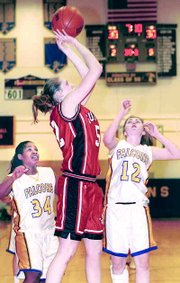 RICHLAND - Within the first few minutes of last night's game between Sunnyside and Hanford, the Lady Grizzlies found themselves trailing by nine points. But two points scored from the foul line was all it took to rev up the Sunnyside team and get things moving in the Grizzlies' direction.
Last night, Sunnyside managed to come from behind and win their first District match-up of the postseason, defeating the Falcons 46-42.
Sunnyside Coach Leo Gomez said his team ended up playing very well against Hanford. He said the entire team came together to defeat the Falcons.
Despite being behind 12-7 at the conclusion of the first quarter, the Lady Grizzlies fought back and chipped away at the Falcon's lead.
"We knew anything could happen," Gomez said.
In the second quarter, Gomez said his team hit the court playing a tough defense and holding the Falcons to only seven points.
By halftime the Lady Grizzlies had managed to gain a small lead over Hanford, going into intermission ahead 22-19.
However, Sunnyside's win over Hanford wasn't cemented until well into the fourth quarter. Gomez said at one point the Falcons were ahead of Sunnyside 35-33. That's when Kerri Urrutia hit a 3-point shot, putting Sunnyside ahead by one point. Urrutia then came back and hit another three, giving Sunnyside the four-point lead they would keep until the end.
Urrutia had 10 points for Sunnyside and six rebounds.
"She worked very hard for us," Gomez said of Urrutia.
Gomez said one of the keys to the Grizzlies' victory last night was their defensive play, as well as some strong play on the boards.
"Our rebounding last night made the difference," Gomez said.
He noted that senior Victoria Sarmiento was one player who had a tough assignment against Hanford, going up against one of the opposing team's toughest players. Gomez said Sarmiento, who scored 6 points for Sunnyside in the second half, hung tight to her player and managed to keep her scoring under control.
"Victoria Sarmiento played her best defense all night," Gomez said.
Leading scorer for the Lady Grizzlies was senior Erica Mendez, who popped in 16 points against the Falcons.
"She did a really good job," Gomez said. He noted that Mendez hit two 3-point shots and pulled down seven rebounds for the night.
Junior Talia Spini also helped immensely, scoring 13 points for the Lady Grizzlies. Spini also had seven rebounds and five blocked shots.
Gomez said Fatima Ruelas also did a good job for the team, stepping in and helping out, putting 3 points on the board and grabbing five rebounds.
"She played a great game for us," Gomez said of Ruelas.
Gomez said last night's win was a team effort, noting that everyone stepped up and put their best foot forward last night.
The win over Hanford means the Lady Grizzlies will move on to play this Friday night at West Valley at 6 p.m.
Sunnyside 7 15 8 16 -46
Hanford 12 7 11 12 -42
Sunnyside- Phillips 1, Pacheco 0, Sarmiento 3, Alvarez 0, Caballero 0, Urrutia 10, Ruelas 3, Mendez 16, Torbay 0, Pangle 0, Spini 13, Rivera 0.