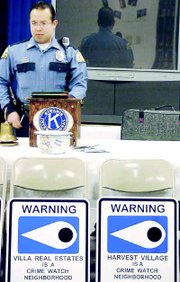 Sam Ramos, a 10-year veteran of the Sunnyside Police Department, recently became the city's crime prevention officer.
His goal is to be proactive in preventing crime, he told Sunnyside Kiwanis Club members Thursday morning. The guest speaker said rather than being reactive, responding to burglaries and other crimes after they have already occurred, he wants to prevent criminal activities from taking place. Crime in Sunnyside is an occurrence that occurs in cycles, according to Ramos.
At Christmas time there were numerous burglaries, he said.
"There are times we go a few days or weeks without something and then we'll have a rash," he added.
With numerous new neighborhoods popping up around town, blue and white signs have been made to declare them as crime watch neighborhoods. He said there is an emphasis to start out with crime prevention before it can get a start.
Some of the crime watch signs are specific to a neighborhood, such as Harvest Village and Villa Real Estates, while others are generic and can be placed in any neighborhood.
Ramos said the goal is to have realtors selling property in Sunnyside hand out crime prevention packets to the new residents in the neighborhoods.
"As people buy a home I would be more than happy to go and explain to them about crime prevention," said Ramos.
The packets include information on how to report a crime, a burglary prevention checklist and vacation security checklist.
Ramos said he included information on how to report a crime because a lot of times people will become frustrated with the dispatcher when they are asking basic questions the police need to know to respond to a crime.
Besides identifying yourself with your name, address and telephone number, callers are asked to tell the dispatcher what kind of crime they are reporting, if the crime is in progress and where it took or is taking place, including the name of the street, intersection and house number.
When it comes to burglaries, he said police will ask for property serial numbers. The serial numbers are used to identify stolen property so it can be returned to the owner.
"Many times we recover stolen property and can't get it back to the victim because they don't have the serial numbers," he said.
The Sunnyside Police Department recently reinstated the vacation security checklist, a service for residents, which allows them to request police officers to do a visual check of their home while they are on vacation.
The service is provided for those who will be gone between four and 14 days, according to Ramos.