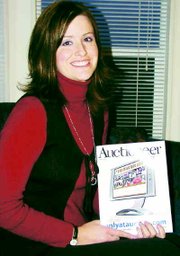 The friends of the quiet, reserved Alesha Russell are often surprised to learn she is an auctioneer.
A second grade teacher at Keene Riverview Elementary School in Prosser, Russell comes out of her shell when in front of a crowd as she brings an element of entertainment to what once could have been considered dry auction lingo.
The auctioneer world has come a long way since the days when a man in a straw hat would sit in front of a crowd and call a bunch of numbers.
Auctioneering is about entertainment, playing off the crowd and those helping with the event, according to Russell, who lives in Sunnyside and is an auctioneer or bid caller for Booker Auction Co., a company founded by her father and grandfather more than 20 years ago.
Russell, 25, has been an auctioneer since she was 18, when she was called for her first auction. As a college student at Central Washington University, she was called by the Ellensburg Christian School to call bids at their benefit auction. This spring will mark the seventh year she has helped with the event.
The auction was her introduction to benefit auctions, which she now specializes in with her sister Camille. Some of the auctions the sisters have been bid callers for include those benefiting museums, the Tri-Cities Boys and Girls Club, the American Cancer Society and Ducks Unlimited.
"We try to do more together because it brings more entertainment and variety," she said.
Booker Auction Co. has a variety of specialties and travels the Pacific Northwest to hold auctions.
Her father, Merle Booker, mostly focuses on farm equipment and real estate sales. Her uncle, Butch, who is based out of Colfax, sells cattle. The family also conducts sales for non-profits, such as the 4-H and FFA sales at the Benton-Franklin County Fair and the Connell fair.
A continued family tradition, Russell remembers helping as a youngster at auctions.
"I've helped with all processes of auctioning," she said. "I started with running pages as a child to now actually calling and clerking."
As a teen, she and her sister attended two weeks of school at the Reppert School of Auctioneering in Auburn, Ind.
"I went to gain confidence and more knowledge in auctioning," she said, adding that she didn't think she would break into bid calling.
Enjoying her part-time work as a bid caller, Russell said, "it's something unique that not many people do."
It is also something she can do with her family.
"It becomes very entertaining, especially when we do it as a family," said Russell. "You can really play off the crowd and each other."
A growing industry, with more and more women breaking into the auctioneering world, there are auctioneering magazines, conventions and classes held across the country to keep bid callers up to date on the latest techniques.
Recently, she and Camille attended a winter seminar on successful benefit auction consulting.
"We learned new ideas and some different ideas for non-profit organizations and how to bring in the most revenue for their organization," said Russell.
Benefit auctions are becoming more popular as people realize that although it takes a lot of work it can bring in the most money.
"It's a social event," said Russell. "People can come, have a nice dinner and talk with friends and family. The auction is becoming more of an entertainment than someone who just stands there."
She said the classes she attended also discussed strategies for obtaining items and other auction ideas, such as bidding frenzies.