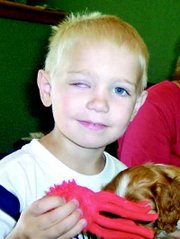 3-year-old Noah Clift is a holy terror. Much like other youngsters his age.
If he isn't beating on one of three older brothers, he's poking around in places he shouldn't be. Trouble finds him, like any other normal 3-year-old.
"He's full of you know what and vinegar," laughs his grandmother, Sunnyside's Susan Clift.
What makes Noah different than most other boys his age, though, quickly becomes evident when you first lay eyes on him. A large, oversized silicone ball rests in his right eye socket. It was put there to replace the eye he lost last year, after he fell face first onto the crank handle of a travel trailer.
Six surgeries later, the tiny Sunnyside youngster is still battling to regain some semblance of normality. A seventh surgery, to repair a blood clot that has formed in his damaged body part, is on the horizon.
Although Noah isn't aware, or can't comprehend the fact there isn't the money available right now to perform the surgery, he continues on bravely with his day-to-day routine.
Bravely?
You better believe it.
How scared would you be knowing that every time you sneezed you were going to pass out into unconsciousness? Or that as each day passes your words become a bit more slurred than the day before? How about waiting for the next seizure, knowing that some unknown force was going to take ravaging control of your body? Innocent, little Noah deals with two or three such seizures just about every day.
"The seizures are the biggest problem Noah deals with," said his grandmother. "He runs and hides when they come on."
Noah's slurred speech is the result of the oversized silicone ball that was implanted into his eye socket. Mrs. Clift explains the idea was for his face to grow up around the ball as he grew older. It's not working out that way. Complications have arisen, and now Noah's words become less clear, more slurred as each day passes.
His latest, and most serious, problem that must be addressed is the blood clot that's formed in his head. Surgeons at Seattle's Harborview Medical Center are ready to take on the lifesaving task. But before Noah can be taken across the mountains and wheeled into the operating room, his family must be able to pony up $16,000. About half of that is needed to purchase a medicine that must be taken twice a day, each day, for three weeks prior to the surgery. Each dose, said the boy's grandmother, costs $175.
Where the problem lies, is that the Clift family doesn't have that kind of money lying around.
Who does?
"Our homeowner's insurance (company) has failed to do anything," said Mrs. Clift.
Fortunately, a group in town has stepped forward to try and bail the Clifts out of their financial predicament. The Sunnyside Lions Club is sponsoring an auction next Wednesday at the Sunnyside Community Center.
"Auction items have been donated by merchants," said Lions Club spokesman Melba Fujiura. "The funds must be raised by March 1."
Fujiura and other Lions Club members know, though, that for the auction to be successful the community of Sunnyside must get behind their efforts.
Noah's grandmother said additional donations of goods and services are still being sought, noting that local merchants have been generous so far, anteing up such things as golf packages and hair care services.
"There have even been discussions by the Yakima Valley auto dealers association that a vehicle may be donated for the auction," said Mrs. Clift.
Even more important, all realize, is that next Wednesday's auction draws a large crowd of bidders for the items that have been donated. For those who want to help but are unable to attend the Feb. 23, 6 to 8 p.m. fund-raiser, a donation account for little Noah has been established at U.S. Bank here in town.
Those who want to personally wish the tyke well with his future battles will have the opportunity to do so at the auction. Noah's grandmother said he will be in attendance at Wednesday's auction.
For 3-year-old Noah Clift, the surgery he must undergo in the next few weeks won't be his last. His trials and tribulations are far too great to think this next operation is the fix-all to his problems. But it's a medical procedure that must be done so he can continue on with what will probably be a long road to eventual recovery.
"I don't even want to think about the next surgery," said his grandmother. "We're just trying to get through this one."