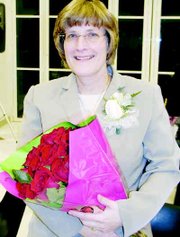 GRANGER - Honoring its citizens for making a Granger a better place to live was the focus of the annual Granger Chamber of Commerce awards banquet held this past Saturday night. Despite a small turnout, attributed to the many mid-winter prep basketball tournaments being held the over the weekend, the Chamber board honored a few of the community's outstanding citizens.
Among those honored was long-time city attorney Ray Reid. Reid, who has led the Granger city government through numerous transitions, was honored as outstanding public official.
Reid has served as the Granger's legal advisor for more than 40 years, attending upwards of 48 council meetings a year, as well as representing the city in court cases, as needed, said Mayor David Leach.
Leach said Reid began his legal career in Granger in the late 1950s. "Even though he now practices law in Toppenish, he continues to take an active interest in the growth of Granger," said Leach.
Honored as the outstanding school employee was Roosevelt Elementary School Principal Janet Wheaton.
Wheaton has been employed by the Granger School District as an administrator for the past three years and has been instrumental in establishing several innovative programs for children and parents, according to Timothy Dunn, superintendent of Granger schools.
He said Wheaton has been instrumental in forming a parents group, bringing the Missoula Children's Theater to the Granger School District, as well as adding new activities for students, including student leadership programs, Dunn said.
"She has a kind and generous heart and gives 110 percent of herself to the education of your children," Dunn said.
The Granger Chamber also honored two high school students for their outstanding leadership in the community and schools.
Honored as outstanding high girl was Karen Golob, and named as outstanding high school boy was Pedro Naverrete. Both students were unable to attend the Chamber banquet, where each was praised for their outstanding leadership skills and academic achievements.
A straight "A" student, Golob is the valedictorian of the class of 2005 and Navarrete also maintains a high grade point average, said Chamber President Carl Hurlbert.
Both students were selected as Outstanding Juniors by the Masonic Lodge and can boast impressive accomplishments, ranging from community service to athletics.
Graciela Valencia, who is the vice president of the Granger Chamber of Commerce, was named the 2005 Chamber Member of the Year.
"Whenever I have needed her help on a Chamber project, she has stepped up and followed through on the project," said outgoing Chamber President Mary Kresse.
"Gracie always accepts the challenge and get the task done," said Kresse.
Saturday night's banquet, held at Granger High School, included a silent auction with dozens of items offered for bids. All proceeds from the auction benefit the Chamber while the banquet meal was prepared by the Granger Aquatic Committee, as a fund-raiser for the Granger swimming pool fund, said Hulbert.