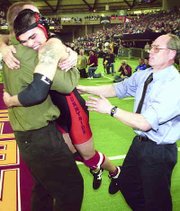 TACOMA - Mid-Valley League champions. Third at Sub-Regionals. Second at Regionals. Another "Top 10" finish at State. Not too shabby for a team that was basically in a rebuilding mode this past season.
"We'll take those kinds of numbers," beamed Sunnyside High School wrestling coach George Paulus, who guided the Grizzlies to a seventh place finish at the 3A State tournament in Tacoma this past weekend.
Sunnyside sent six grapplers to State, and all of them won at least one match in the Tacoma Dome.
"All six contributed towards us placing seventh in the team standings," said Paulus, explaining that Sunnyside tallied 63 points at State. Perennial powerhouse Sedro-Woolley won the 3A team title with 173 points. East Valley of Spokane was second with 138 points.
Four Grizzlies brought home hardware from State, including senior Steve Sanchez. Capping off his senior season with a 33-1 record, Sanchez won the 119-lb. State title. In the process, he avenged his only loss of the year, defeating Kevin O'Neal of Sedro-Woolley in the finals by an 11-10 score.
Sanchez, very workmanlike in all four of his State tourney matches, scored an escape and takedown in the final 12 seconds of the championship bout to rally from behind and clip O'Neal for the title.
"Steve didn't say much before any of his matches," said Paulus. "It was pretty much all business for him."
Sanchez used the same sequence of moves he utilized to best O'Neal in the closing seconds earlier in the third period to square the match at 8-all. After Sanchez tied up the bout, O'Neal reversed the Grizzly to take a 10-8 lead. Sanchez freed himself of O'Neal's grasp as the final seconds ticked off the clock to close within 10-9, then shot low and slung the Sedro-Wooley wrestler to the mat for a takedown just as the buzzer sounded.
The assistant referee of the title bout tried arguing that Sanchez didn't score the takedown before the buzzer sounded, but the head referee and the officials at the scoring table over-ruled him, handing the 119-lb. title to the Sunnyside senior.
Nearly breathless after the emotional victory in the finals, Sanchez said he believed the State title was his destiny.
"This was just my time," he said.
"It was an amazing performance," said Paulus. "It was a match for all time. I don't think I'll ever forget that one."
Sanchez opened State by pinning Tyler Thurlson of West Seattle with 22 ticks left on the clock in the opening period.
In the quarterfinals, Sanchez got by Ferndale's Jordan Stevens, 5-3. Stevens, said Paulus, was an extremely large wrestler for his weight class. In the semifinals, Sanchez worked his way past Jerad Danglesh of Kelso, 7-2.
That set up the showdown with O'Neal. Both finalists were evenly matched, but the determined Sanchez proved his mettle with the 11-10 decision.
Sunnyside also had another wrestler advance to the finals-103-pounder Isaac Romero. The freshman gave Sedro-Woolley's Derrick Crouter all he could handle, but ended up dropping a 3-1 heartbreaker in the championship bout to settle for second place honors.
Romero, behind by a 2-1 score, couldn't turn Crouter over for near fall points, so with about a minute remaining in the match let Crouter go. Paulus said the idea was to give Crouter the escape point and have Romero attempt a takedown to send the bout into overtime.
"It didn't work out that way, but Isaac proved he belonged there," said Paulus.
Romero opened the tourney by blanking Tha Keo of R.A. Long, 8-0. In the quarterfinals, Romero edged Ty Howard of Cedarcrest, 3-2. He advanced to the title match with a 7-6 semifinal victory over Shelby Lawson of East Valley of Spokane. Romero scored an escape with 10 seconds remaining in the match to snap a 6-all deadlock with Lawson.
Sophomore Ricardo Rivera and senior Pete Garza were sixth place finishers for Sunnyside.
Rivera, only a sophomore, won his first two 112-lb. bouts. He opened with a dominating 10-2 victory over Brad Hays of Sedro-Woolley, following up the decision with a 12-3 victory over Thomas Maciel of Chief Sealth. In the semifinals, Rivera was pinned by West Valley's Devin Stelter-Moorman. The loss dropped Rivera to the consolation bracket, where he faced Hays again for the right to move on to the bout to decide third and fourth place honors. Hays avenged the earlier loss to Rivera, though, scoring a reversal right before the final buzzer sounded to pull out a 6-5 win. That dropped Rivera into the match for fifth and sixth place honors, where he lost a tight 10-8 overtime decision to Zach Raasch of Newport. Raasch trailed Rivera by an 8-4 score with 15 seconds left in the bout, but scored a takedown and near fall points in the closing stages of the match to eke out the decision.
Only a sophomore, Rivera now has a sixth place medal to go along with the fourth place medal he won at State last year as a 103-pounder.
Garza, also a sixth place finisher, took a different route to picking up his medal. The Sunnyside heavyweight was edged 5-4 in double overtime in his opener by Craig Marsh of Sedro-Woolley. Garza rebounded, though, with three consecutive wins.
His first victory came against Jay Pena of Fort Vancouver, a 5-2 decision. Garza then bested Leif Hanson of White River, 10-3. His third straight victory came against Kerry Bowser of Mt. Rainier, whom he pinned in a time of 4:23. Garza sustained a 3-2 double overtime loss to Curtis Baskett of West Seattle, which advanced Baskett to the match for third and fourth place honors. The loss sent Garza to the bout for fifth and sixth place honors, where he was pinned by Matt Carr of Ferndale in a time of 2:42.
"It was Pete's sixth match of the tournament," said Paulus. "I think he just ran out of gas."
Sunnyside freshman Joseph Villanueva, at 125 lbs., won his State tourney opener, beating Eric Richtmyre of Columbia River by a 3-1 score. Villanueva was upended in the quarterfinals, though, dropping a 6-2 decision to Randall Nerston of Sedro-Wooley. Sent to the consolation bracket, Villanueva's run at State ended when highly regarded Chris Stone of Renton scored an 8-2 victory over the Grizzly.
"Hopefully, Joseph will get a few more shots at State," said Paulus. "He's only a freshman."
Also competing at State for Sunnyside was 160-lb. senior Victor Moreno. He lost a thrilling 3-2 double overtime decision to Brian Robert of Bainbridge Island in his opener, but countered with a 2-1 overtime victory against Jesse Hampton of Newport in the consolation bracket. Moreno was a game foe for Chris England of Chehalis in his next match, but came out on the short end of a 6-4 score and was eliminated from the tourney.
"Victor was right there in all three of his matches," said Paulus.