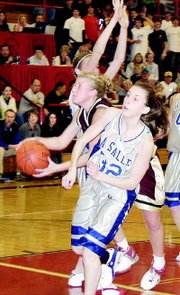 The Sunnyside Christian High School girls basketball team made short work of the Klickitat Vandals last Saturday, and in the process earned a berth to Regionals.
Playing a District tournament loser-out game, the Lady Knights thumped Klickitat, 64-28. Saturday's victory gave Sunnyside Christian (15-8) a third place finish at District. LaSalle and Riverside Christian finished first and second, respectively.
Three players scored in double figures against the Vandals, including junior Emma Hernandez, who tossed in a game high 17 points. SCHS teammates Carly DeGroot and Tyssyna Van Wingerden added 14 and 11 points, respectively.
Sunnyside Christian was forced to play Saturday for the District's third and final berth to Regionals after dropping a heartbreaking 48-34 decision to LaSalle last Friday. The Lady Knights opened a 13-2 first quarter lead on the Lightning, only to watch as LaSalle, behind Molly McGree and Jasmine Stohr, battled back for the win.
Friday, the Lady Knights' downfall was the result of not being able to take care of the ball, plus having two of their best players foul out of the game.
After LaSalle had closed to within 20-14 at intermission, the Lightning put on a fullcourt defensive press the second half that caused the Lady Knights fits. LaSalle scooped up turnover after turnover, which led to the Lightning outscoring Sunnyside Christian 14-3 in the third quarter. LaSalle took the lead for good with 1:29 showing on the clock in the third period, when Carly Gosser hit one of two free throws to give her club a 24-23 lead. The freshman Stohr, who finished with 11 points, popped in 3-of-4 free throws to close out the third quarter, in the process upping LaSalle's lead to 28-23.
The first nail in the coffin came when the playmaker Hernandez, Sunnyside Christian's point guard, fouled out of the game just 49 seconds into the fourth quarter. She ended up settling for 8 points on the night.
The second nail pretty much sealed the Lady Knights' doom. Just 50 seconds after Hernandez was sent to the bench, the team's leading scorer this season who also had a team high 15 points Friday, Van Wingerden, picked up her fifth foul. The senior was gone and so, too, pretty much was Sunnyside Christian's chances of pulling off the win.
The third and final nail in the coffin came when McGree heated up down the stretch. She threw in 11 of her club high 15 points in the final period. McGree was 7-for-8 from the foul line in the closing minutes.
The state's top ranked class 'B' girls hoop team, the Lightning, whom the Lady Knights knocked off by a 46-44 score to close out the regular season just a week before, appeared stunned when Sunnyside Christian jumped out to a 13-2 first quarter lead. Hernandez and Van Wingerden were the catalysts early on, combining for 11 of the Lady Knights' 13 first period points.
Gosser swished in a trey for the Lightning to open the second quarter, but Van Wingerden responded with a 3 of her own to extend the Lady Knights' lead to 16-5. After a couple of LaSalle buckets, Van Wingerden came up big again, hitting a turn-around jumper in the key to push Christian's lead back out to 18-9. Hernandez followed with a baseline drive with 1:12 remaining in the first half to give the Lady Knights' a 20-9 lead. Stohr refused to let Sunnyside Christian mount a bigger lead, though, as she closed out the first half by hitting a pair of free throws and then nailed a long range 3-pointer at the buzzer.
Sunnyside Christian still seemed to be in control after intermission. Following a Lightning bucket, Van Wingerden hit a putback off a miss by her sister, Tori, to give her team a 22-16 lead. After several exchanges, where neither club scored, Van Wingerden hit a single free throw to push Sunnyside Christian's lead to seven. Unbeknownst to the Lady Knights, that would be all the scoring they would get the rest of the period. With Gosser, Stohr and German each pumping in four points, LaSalle rallied to take a 28-23 lead into the final period.
McGree then took over, leading the Lightning to a 20-11 advantage in the fourth quarter.
Friday's defeat, which brought tears to several of the Lady Knights' eyes, perhaps served to light a fire under them on Saturday. Sunnyside Christian stormed out of the gates against Klickitat, building a 21-4 lead. The Lady Knights ended any suspense with a 16-6 run in the third period.
Friday
Sunnyside Christian 13 7 3 11 -34
LaSalle 2 12 14 20 -48
FG-Sunnyside Christian 11/45, LaSalle 13/60. FT-Sunnyside Christian 9/16, LaSalle 18/24.
Sunnyside Christian-Ja. Roberts 2, Jones 1, DeGroot 2, Rice 0, denHoed 3, To. Van Wingerden 3, Ty. Van Wingerden 15, Hernandez 8, Jo. Roberts 0, Mensonides 0.
LaSalle-Schneider 2, Anderson 5, German 6, Newell 2, McGree 15, Stohr 11, Gosser 7.
Saturday
Klickitat 4 10 6 8 -28
Sunnyside Christian 21 11 16 16 -64
Klickitat-Davis 1, Linville 0, Keys 9, Odle 2, Huwe 5, Justman 7, Brewer 2, Clack 2.
Sunnyside Christian-Ja. Roberts 4, Jones 0, DeGroot 14, Rice 0, denHoed 7, To. Van Wingerden 3, Ty. Van Wingerden 11, Hernandez 17, Jo. Roberts 6, Mensonides 0.