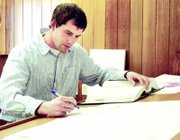 City of Sunnyside Planning Director Mark Kunkler finally has a new face aboard to assist him in the duties of mapping out the future growth of the community. And the new planner seems more than excited about a long future with the city.
Jamey Ayling officially took the reins of associate planner on Tuesday, Feb. 15, coming to Sunnyside from Yakima County, where he worked in the planning department.
Ayling, 26, is originally from Grand Coulee, where he graduated from Lake Roosevelt High School in 1997.
Ayling attended Central Washington University, graduating with a Bachelor of Art's degree in geography in 2001. Ayling also minored in earth science and environmental studies.
After graduating college, Ayling went to work in Idaho, finishing a job with the planning department in Canyon County.
Ayling said he became interested in this line of work from one of his professors at Central Washington University.
One of the major attractions for Ayling in coming to Sunnyside was the size of the community. Ayling said coming to work for Sunnyside provides him with some unique opportunities.
"(It gives me) an opportunity to stay in Eastern Washington, but work for a small municipality where you can see the results," said Ayling.
While he has only been with the city less than a week, Ayling he likes what he sees in Sunnyside so far.
"I am picking things up, getting my feet on the ground," said Ayling.
One of Ayling's major duties will be working directly with the city's planning commission in providing the body some direction. Ayling will also be working with zoning, subdivision and interpreting the codes that govern the city's growth.
One of the major projects ahead of Ayling is working with the planning commission on updating the city's comprehensive plan.
"It is kind of a future vision, shaping the community," said Ayling of the purpose behind the comprehensive plan.
Ayling said he likes this line of work because of the people he gets to work with. Ayling said he is a people person and enjoys interacting with others.
In his spare time, Ayling and his wife, Kathy, enjoy being outdoors, camping or hunting.
"I spend as much time outdoors as possible," said Ayling.
Ayling is looking forward to a long and prosperous future with the City of Sunnyside.
"I have bounced around to a couple of stops along the way," said Ayling. "I am now ready to put down some roots."