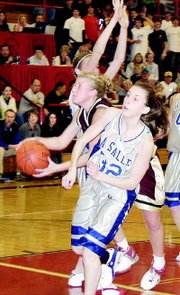 Kenith Kenison, 36, of Grandview and Brad Kenison, 9, of Oregon were injured in a one-vehicle rollover on SR-221 between Patterson and Prosser Friday, Feb. 18.
According to Washington State Patrol Detective Metz, who investigated the crash, Kenison was traveling northbound in a 2002 Jeep Cherokee when his vehicle left the roadway at about milepost 19. The Jeep rolled and was totaled in the crash.
Both the driver and his passenger were taken to Kadlec Medical Center in Richland. Both were treated and released.
Metz determined that the cause of the accident was inattention. Mr. Kenison is being charged with vehicular assault.