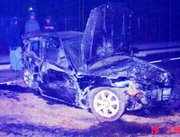 The cold weather chill of the winter months in the Yakima Valley has most hot rod street racers indoors, but as the weather warms car enthusiasts will be looking to show off their latest modifications and speed.
Street racing is a problem that is worse in the summer months than winter, according to Sunnyside Police Department Deputy Chief Phil Schenck.
He said in recent months the number of reports of street racing within the Sunnyside city limits has diminished, which he also attributes to an emphasis on the problem. Although the number has gone down, the pastime is still dangerous and one Sunnyside police plan to continually crack down on.
Usually, though, it isn't within city limits that racers will find the long stretches of abandoned road to race opponents. It is in the county that most of the races are held.
Although outside of the Sunnyside area, two racers dueled this past Sunday. The end result was a crash, in which one of the drivers and two passengers were taken to the hospital, according to Washington State Patrol Lt. Jim Keightley.
The race between a 19-year-old Union Gap man and an 18-year-old Zillah man occurred in Terrace Heights. The crash was near the intersection of 33rd Street and Birchfield, said Keightley.
Witnesses to the crash said the vehicles passed the intersection traveling about 70 miles per hour, turned around and returned down the road at an even higher rate of speed. The vehicles collided at the intersection. The Union Gap man's vehicle left the roadway and rolled several times. The driver and two of his passengers were taken to Yakima Regional Hospital. One of the passengers was later transferred to Yakima Memorial, said Keightley.
Schenck said that most of the racers they see are driving fancy cars with the latest in accessories.
"If they have a fire extinguisher (aboard) and nitrous oxide, they're probably racing," he added.
Helpful to the Sunnyside police's efforts to reduce racing in Sunnyside, Schenck said, has been local citizens.
"Within Sunnyside we've encouraged people to call whenever they see cars hot rodding through the streets," he said.
The emphasis has been positive and helped thwart accidents within the community.
He said, to his knowledge, there haven't been any street racing related accidents within Sunnyside ever.